PAT Testing Courses London, Watford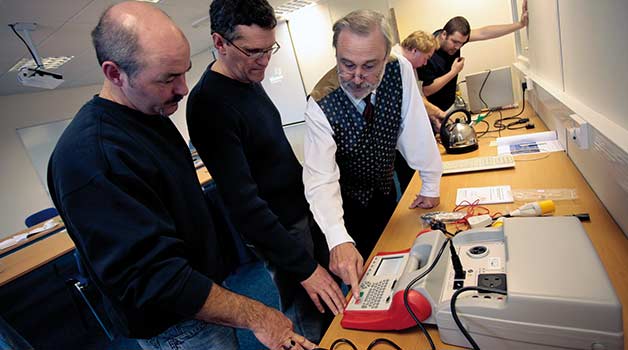 Course Details
Taught by our expert tutors who have years of experience in PAT testing, our course is taught in an easy-to-follow, step-by-step fashion which makes it easy to understand portable appliance testing.
What's Covered on the Course?
Based on the IET Code of Practice that governs PAT testing in the UK, the course is designed to ensure that candidates get the competency needed to be able to carry PAT testing in line with the regulations.
Topics covered on the course include:
Basic principles of electricity
Classification of appliances
Electrical changes
Legal requirements
The IET Code of Practice
Recording Results
Practical use of a PAT testing machine
Certification
Those who successfully pass the exam/practical will be issued with a Certificate of Competence awarded by PASS.
Length
Our PAT course lasts for one day from 9AM to 4PM.
Location
This workshop is held at the training centre in Watford. Other locations are available if you would prefer, simply take a look through the menu to find your nearest location.
PASS Ltd
1st Floor
41 Watford Metro Centre
Dwight Road
Watford
WD18 9SS
Course Suitability
Anyone can attend our PAT testing course; no formal electrical training is required to become a PAT tester.
Pre-requisites
There are no requirements for this course other than a desire to learn more about PAT testing.
Course Reading Material
We recommend reading the IET Code of Practice before attending this course.
Expand a Location to Book Online
London-Watford
| Date | Price | Duration | Availability | |
| --- | --- | --- | --- | --- |
| 5 Aug | £225.00 | 1 days | Space Available | |
| 30 Sep | £225.00 | 1 days | Space Available | |
| 9 Dec | £225.00 | 1 days | Space Available | |