Introduction to Electrical Thermography Training Course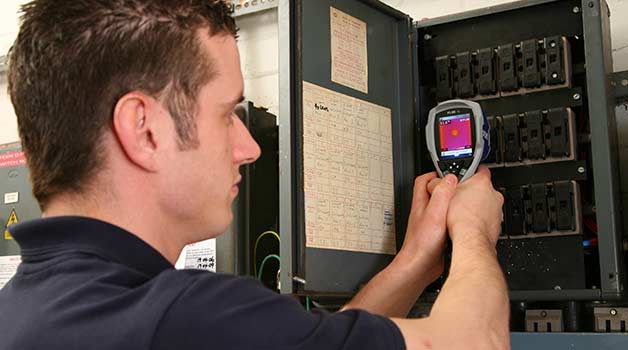 Learn how to spot problems within electrical systems using a thermal imaging camera.
Learn how to use your thermal camera in every day applications
Duration: 1 day
Suitability: Electricians and anyone with an interest in learning more about thermography
Pre-requisites: None
Recommendations: An interest in electrical equipment and maintenance
Qualification: No formal certification. Certificate of attendance can be obtained
Exam: No
Did you know that one of the most effective ways to spot problems with overheating electrical systems is by using a thermal camera? On the Introduction to Electrical Thermography course, you'll learn all about how these cameras work, how they can be used on both low voltage and high voltage electrical systems and the best way to use your camera.
The course combines together theory-based learning, hands-on camera training and case studies centred on electrical thermal camera usage.
Candidates can expect the following content as part of this course:
Basics of thermography
Basics of emissivity and reflected apparent temperature
Introduction to electrical and building inspections
Infrared camera handling
Basics of heat transfer
Electrical/industrial systems
Important properties of materials
Common problems and mistakes
Case studies
Data analysis and reporting
Laboratory sessions
This course requires absolutely no former thermography training and is ideally suited for those new to the field.
Other Thermography Training Courses