Professional Optical Gas Imaging Course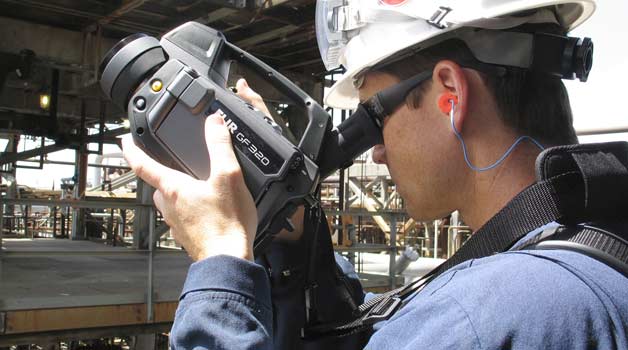 3 day course for gas professionals to learn optical gas thermography.
Learn how to use your thermal camera for gas detection
Duration: 21 hours (3 days)
Suitability: Gas professionals
Pre-requisites: None
Recommendations: Basic knowledge of physical science + technical background
Qualification: Certificate of Attendance
Exam: No
Taught over 3 days, this course gives candidates professional experience in using advanced FLIR GF series gas thermal cameras and advises how to effectively interpret results.
This course is ideally suited for those regularly working around gas and is essential for understanding how to use thermography to pinpoint gas leaks.
With a focus on site safety, the course will also detail understanding of gas clouds as well as reporting methods. You will also gain an understanding as to why some gases appear as visible cloud within the thermal image and be given some basic reporting methods.
Course contents include:
Optical gas imaging camera overview and operation
Basic thermography
Spatial resolution
Basic thermal science
Basic heat transfer
Gas imaging fundamentals
Absorption characteristics (VOCs, CO, refrigerants and SF6)
Surveying methods
Reporting
Safety considerations
Laboratory sessions
Other Thermography Training Courses