Course Overview
Download Course Factsheet
As a Senior Authorised Person, you will be responsible for others working on high voltage equipment.


For more information call us on 01642 987 978 or email training@pass.co.uk for more information.
Programme Duration

5 days

Programme Location

PASS Stockton HV Training Centre. Venue address is 1 Alberto Street, Stockton-On-Tees, TS18 2BQ. More about venue >>

Assessments

Written examination and practical examination

Certificate Gained

PASS Certificate of Competency in Limited Operation of High Voltage Power Systems accredited by City and Guilds

(Certificate of Attendance gained for those who do not pass the tests)

What's Included?

Programme entry and examination costs, lunch and refreshments (tea, coffee and juice)

Entry Requirements

As a senior level programme, you should have strong general understanding of high voltage power networks and be responsible as a senior figure (or want to train to this standard) for other's safety in HV environments. Anyone attending training should also have a good level of both spoken and written English.
About the Senior Authorised Person Safe Switching Operation of HV Power Systems Programme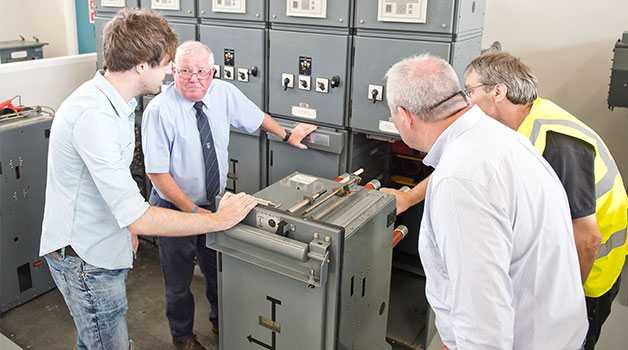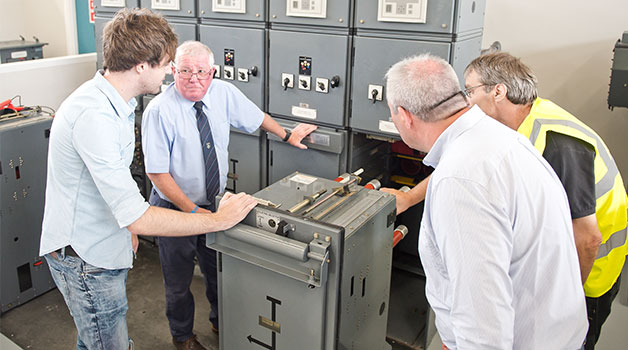 In high voltage environments, safety is essential. A Senior Authorised Person is a professional who will be responsible for the safety of themselves and others in HV areas; the Senior Authorised Person must take steps to ensure HV equipment is safely isolated and safe to work on and is ultimately responsible as a senior figure for overseeing the work of Authorised Persons.
Our Senior Authorised Person programme is designed to give you the theoretical and practical knowledge necessary to do this job effectively. The programme aims to improve your understanding of high voltage power systems at a senior authorised person level and covers statutory regulations and safe operation. The practical elements of the programme will have you performing switching operations on real HV equipment, preparing you for a role in a senior authorised person capacity in line with your place or work's safety rules and regulations.
As a senior authorised person you will also be qualified to issue safety documents such as high voltage electrical permits to work.
The following modules are included as part of this high voltage switching programme:
Electricity at Work Regulations 1989
Electrical Hazards and Precautions
Arrangement of High Voltage Systems
Operational and Safety Features of Switchgear
High Voltage Safety Rules
Issue and Control of Safety Documentation
Safety Lockout Procedures (Key Safes/Multihasps)
The Role of Protection Relays
Emergency Conditions
Practical Exercises (3 exercises – switching, safety documents and switching programmes)
Fault Incidents
Case Studies
Programme Review
Programme Entry Requirements
You should have a strong general understanding of high voltage power networks and be responsible – or are going to be responsible – as a senior figure for performing switching or for issuing safety documents relating to work in HV substations, switchrooms and other high voltage areas.Anyone attending training must also have a good level of both spoken and written English.
Where is the Programme?
As this programme requires the use of specialist HV equipment, we run it at our Stockton-On-Tees high voltage training centre.
The HV centre is designed to give you a realistic simulation of working on high voltage equipment – inside we have authentic switchgear, transformers, marine HV equipment and more to ensure you're actually working on the type of equipment you'll encounter when working.
The address is as follows:
PASS – Stockton Centre
1 Alberto Street
Stockton-On-Tees
TS18 2BQ
You can view more info on the training centre by visiting this link
About the PASS High Voltage Training Centre
Our programmes are led by our experienced HV training professionals, each of whom has worked for several decades in the HV industry. When you're not out performing practical tasks in the HV centre, you'll be in our classrooms learning the important theory behind your programme, or relaxing in our canteen for your provided lunch.The PASS HV training centre is in Stockton-On-Tees, which is situated in North East England. It's within easy access from all major motorways such as the A1 and A19 and is excellent for anyone travelling from Sunderland, Durham, Newcastle and the surrounding area. If you are travelling from further away or overseas, we can help you with finding a place to stay during the program me and ensure you have everything you'll need during your stay.
Why not take a look around our fantastic new facility with a guided 360° tour. Take the tour
Training Centre Gallery
Deposit Option
Only £125 Ex VAT
Upcoming Courses
11

Dec

Stockton
£1,050.00

8

Jan

Stockton
£1,050.00

5

Feb

Stockton
£1,050.00

19

Feb

Stockton
£1,050.00

4

Mar

Stockton
£1,050.00

18

Mar

Stockton
£1,050.00

8

Apr

Stockton
£1,050.00

22

Apr

Stockton
£1,050.00

13

May

Stockton
£1,050.00

3

Jun

Stockton
£1,050.00