PASS Ltd Train's Over 1500 on 18th Edition
PASS Limited, electrical training provider, has seen more than 1,500 candidates successfully pass the 18th Edition qualification since it was released one year ago in July 2018.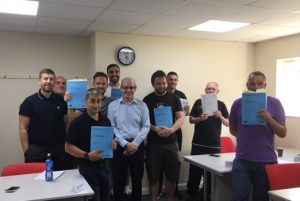 The new updated Blue Book from the IET detailing the BS 7671 Wiring Regulations was launched on the 1st of July last year. PASS Ltd's training team of tutors have travelled all corners of the UK delivering the 18th Edition courses to everyone from local councils, electrical and building contractors to self-employed electricians nationwide.
Over the last year PASS Training has trained 1642 candidates consisting of a combination of one day 18th Edition update courses, Full 3 day 18th Edition courses and on-site training at clients own premises. All candidates have competed the City & Guilds BS7671 18th Edition Wiring Regulations 2382:2018 exam.
PASS is very proud to say that they have a current PASS rate of 95% for the 18th Edition City & Guilds qualification.
As well as candidates visiting the PASS Electrical Training Centre in Teesside and Watford, courses are delivered across the UK through a network of training venues. All are bookable online through the electrical training course dedicated website. PASS has also delivered many courses at client's own premises through it's on-site training programmes.
Carole Jameson, Training Centre Manager for PASS Ltd, commented: "It is really great to be able to say that we have supported so many candidates to gain their 18th Edition qualification just one year on from its release date in July 2018".
"We have a fantastic team of tutors who continue to coach and support each candidate on their learning journey. It's a great achievement for both our company, and the hard working candidates who have chosen PASS as their training partner".
The City & Guilds 2382-18 courses run regularly at PASS training's venues across the UK. For more information about the 18th training courses or on-site training, please visit the 18th Edition course pages.