FREE Seaward TOP PAT FAQs Workshop
Following the successful series of PAT workshops, we proudly announce that PASS Training and Development Centre will host another Free Seaward Workshop on Friday, 22nd March.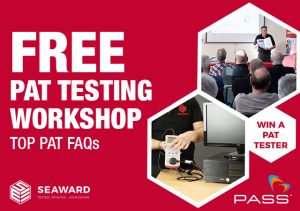 In this event, we will answer the most frequently asked PAT Testing questions, as well as exploring counterfeit and substandard goods.
Don't miss out – Seaward are giving attendees the chance to WIN a PrimeTest 100 PAT tester at EVERY workshop.
Topics we will cover:
• Legislation
• Counterfeit & substandard goods
• Test Types
• Testing laptops, laptop chargers and low voltage equipment
• FAQs
Event details:
• Free parking
• Half day duration (registration and refreshments available from 8.30 am. The event will start promptly at 9 am)
• Plus, Seaward will be offering 1-2-1 technical support and you can take a look at the latest PAT testing equipment, including our new Apollo+ range.
Secure your place now and click HERE to register for the event.
We are happy to help if you would have any further questions, please call us on 01642 987 978 or send an email to training@pass.co.uk.