1 Day Application Course for Leak Inspection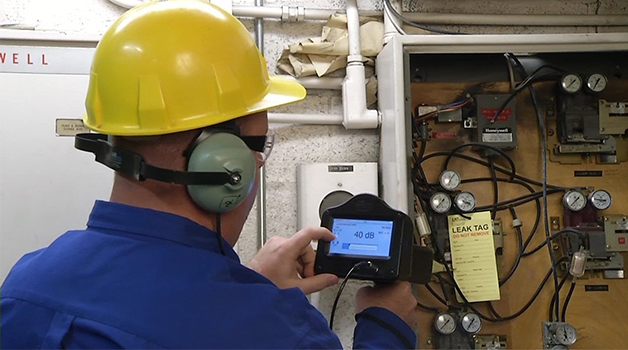 About the 1 Day Application  Leak Inspection Course
Using the guidelines set out by ISO:18436-8 for the Category 1 criteria for Leak Inspection, this course is a focused 1-day course specifically for Leak Inspection.
From service companies who provide Leak Surveys or any industrial maintenance departments to personnel just interested in becoming more knowledgeable in Leak Inspection, this is a course for everyone.
What's Covered in the Course?
• Education on why Leak Inspections benefit companies
• The principles of Ultrasound
• The physics behind different types of Leak
• Inspection Procedures/Techniques
• Quantification/Reporting from Leak Surveys
What is Ultrasound Leak Detection?
Ultrasound leak detection covers a wide range of leaks:
Pressure
Vacuum
Any type of gas
As any gas (air, oxygen, nitrogen, etc.) passes through a leak orifice, it generates a turbulent flow with detectable high-frequency components, this is what an Ultrasonic leak detector picks up on and finds the leak by;
The directional of sound waves makes locating the source easy
The intensity of the signal: the closer you get, the more sound you detect
Fixed frequency, making it effective to locate even in a loud factory environment
What Assessments Are There?
The course will be taught through a mixture of classroom theory along with practical training. Culminating in a short multiple-choice final exam.
Certification Gained
Upon completion of the course, the student will gain a certificate of completion by UE Systems Europe certifying the student has met the criteria for Leak Inspection.
Course Materials
Students are asked to bring basic PPE for practical sessions; Safety boots, Hard Hats, Safety Glasses and Hi-Vis vest.
It would be highly advantageous for students to bring laptops with the UE Systems DMS Software installed (Free to download here) as part of the course will look at data analysis and report creating. Any student that already has an Ultraprobe is encouraged to bring it to the training, if feasible.
Our Facility 
The PASS HV training centre is in Stockton-On-Tees, which is situated in North East England. It's within easy access from all major motorways such as the A1 and A19 and is excellent for anyone travelling from Sunderland, Durham, Newcastle and the surrounding area. If you are travelling from further away or overseas, we can help you with finding a place to stay during the course and ensure you have everything you'll need during your stay.
Why not take a look around our fantastic new facility with a guided 360° tour. Take the tour
Expand a Location to Book Online
Stockton-On-Tees
| Date | Price | Duration | Availability | |
| --- | --- | --- | --- | --- |
| 22 Sep | £295.00 | 1 days | Space Available | |