Fluke Thermal Camera Seminar: Register Now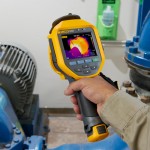 PASS are delighted to announce we will be hosting a seminar from Fluke on the 23rd of September 2015.
The seminar, which is open to anyone, will focus on Fluke's new TISxx range of thermal cameras and outline the benefits of Fluke Connect, Fluke's unique technology that allows thermal cameras and other testing tools to wirelessly interface with each other and smartphones running the Fluke Connect app.
This event is a great way to learn more about the benefits of thermography, how thermal cameras work and how they could benefit your business.
During the seminar, attendees will learn:
The difference between visual and thermal images
How to use thermal cameras to find electrical defects
An understanding of the limitations of thermography
Different types of defects found in high, medium and low voltage applications that can be located using thermal cameras
Discover how thermal cameras can be used to improve maintenance practices
Learn tips and tricks on using Fluke thermal cameras
This seminar will be of use to anyone interested in thermography, particularly:
Instrumentation technicians/engineers
Process technicians/engineers
Electrical/electronic engineers
Details
Date: 23rd September 2015
Venue: PASS Ltd., 1 Alberto Street, Stockton-On-Tees, TS18 2BQ
Time: From 08:30AM – 13:30PM
Further information: Refreshments and lunch will be provided. A maximum of two delegates per company are allowed to register for this seminar.
Register Interest
If you are interested in attending the seminar, you must register your interest by visiting the Fluke website and filling in the form found there.
For more information on the seminar and for any questions, please call us directly.