Approved Document P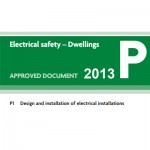 In December of last year the revised edition of Approved Document P was published and applies to work carried out after the fifth April this year.
The revised edition applies to electrical work carried out in dwellings in England and changes from the previous version include the following:
A reduction in the range of electrical installation work which is classed as notifiable
Any installer not registered as competent themselves can use a registered third party certifier to certify notifiable electrical installation work
Technical requirements are connected to BS7671:2008 incorporating amendment one.
The content has been revised and reduced and now notifiable work only includes the following:
New circuit installations
Replacing a consumer unit
Addition and alteration of existing circuits in particular locations
These particular locations are referred to in the document as 'special locations' and this means zones one and two of a bathroom or a room with a sauna or swimming pool.
One of the interesting changes is that registered third parties can now certify work, which falls under the notifiable category, when the installer is not registered him/herself. This is instead of contacting a building control body.
In making these revisions the Government are hoping that the benefit of using a Part P registered electrician will compensate for the risk of reducing the scope of notifiable work.
However, recent figures confirmed that only 20% of consumers are aware of the requirements of Part P. This lack of awareness could potentially cause issues and it is expected that campaigning will take place to increase public knowledge of Part P and what work falls under it.
What are your thoughts on the revisions?
Written by Sara Thomson