A 360° Tour of our Facilities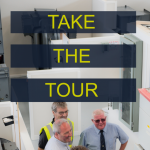 You're probably already aware of the fantastic range of High Voltage Training Courses that PASS Training and Development provide. However, you may not know about our excellent training facilities. At PASS we have recently launched a new High Voltage Training Facility: designed by tutors who are industry experts, alongside a programme which supports the trainee every step of the way, our new facility mimics a real-life HV environment.
The centre is designed to run an intrinsically safe 110V, which ensures every individual's safety whilst training within the facility. As a result of the robust, varied and secure equipment at our disposal, we are able to provide a suite of HV Training Courses that cover a wide range of disciplines and skill levels.
Whether trainees simply need access to HV areas but don't necessarily need to interact with equipment, or require training to become responsible for performing switch room operations as a Senior Authorised Person, PASS have specific solutions to support every individual.
How we work with you
We actively work with organisations to ensure our training is tailored towards their unique business needs, delivering effective training to individuals at every level. As staff benefit from a true to life simulation during training, our courses provide the practical skills, knowledge and confidence to effectively undertake their role. If you're still not convinced, then why not take a look around our tremendous facilities with our guided 360 Tour.