NAPIT endorses E-petition on Retention Trust Accounts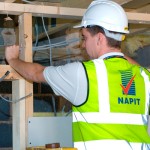 Dennis Flower, H&V News: "Companies reporting the loss of retention funds."
NAPIT is supporting the 'Time for Change' cross-industry campaign, which aims to gain 100,000 signatures on an e-petition seeking to drive a Parliamentary debate on placing retention funds in trust accounts in future.
Industry representatives are urged to add their signature to the campaign, then publicise it to all their industry colleagues and contacts, urging them to sign and drive the debate to protect retention funds.
Time for Change was launched by H&V News on 19 November 2014, following comments raised by contractors in recent years, highlighting issues within the industry about the delay, withholding of or loss of retention funds following those higher up the supply chain entering administration.
Dennis Flower, Editor of H&V News, wrote: "The thinking behind this is that improving conditions will create a more positive atmosphere that will allow companies and individuals to plan ahead with confidence.
"If we can address issues such as retentions and drive improvements in the system, this will provide more security and deliver benefits throughout the entire industry – such as reducing the effects of economic ups and downs in the years ahead.
"With many companies reporting the loss of retention funds through no fault of their own,protecting this money will overcome many of the issues that currently lead to disagreements and even litigation in some cases."
The campaign will focus on proposing legislation to require all funds identified as expected expenditure to go into a trust fund, to ensure these remain protected and paid at the appropriate time.
The Time for Change campaign is open to all sectors within the construction industry supply chain, with the view to present a united front that will make more of an impact when discussing the issues with Government and relevant authorities.
NAPIT Group Chief Executive Officer, Michael Andrews, said: "At NAPIT, we feel it is important that the industry works together to start repairing relationships between contractors and sub-contractors to ensure positive work practices. The Time for Change campaign is a great way to begin the journey towards a more united industry and we are pleased to support it."
To sign the e-petition visit Time for Change.