Make an Electrifying Career Move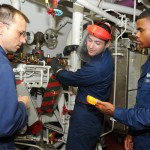 With rising university costs, difficulty finding a job in other sectors and the fact that the average age of electricians is on the rise, there's never been a better time for the younger generation to start a career in the electrical field.
Many reports – including one recently developed by Eurostat – have found that, generally, the average age of an electrician within the UK is over the age of 50. This means that every year constantly sees veteran electricians finally hanging up their multimeters as they take much-deserved retirement, opening up the way for a skilled new workforce of younger professionals to join the ranks of electrical contractors.
The government's recent Green Deal scheme, which is designed to help homeowners and property-owners to implement energy efficient devices and installations into their properties, is expected to gradually increase the demand for electricians across the UK. The demand for solar installations and other energy-efficient schemes is constantly on the rise as energy bills soar and we move towards a much more sustainable environment, paving the way for freshly-trained electrical professionals to start getting business.
The construction sector has also seen a recent boom, with everything from new build homes to extensive developments in work-related and retail properties increasing the demand for skilled contractors to carry out work on potentially big projects.
According to figures from netsalarycalculator, the average starting salary for an entry level electrician is around £14000 up to £19000. For senior electricians, this figure can be everything from £30000-£37000 depending on the work being completed and the area of the UK it is taking place in. An electrician working in London could probably expect to earn more, but this would be counteracted by the fact that a lot of the UK's workforce centres itself around the London area and competition might be high.
Regardless of where you are in the UK there will always be demands for electrical professionals. Whether it's fitting light sockets in a domestic property or completely mapping the wiring for a brand new shopping centre, the work is pouring in for those who can safely install and help ensure electrical installations work for years to come.  This also ties in greatly with electrical maintenance – unfortunately everything tends to break sometime, and electricians will always be needed to step in and save the day with their skills.
A Sensible Alternative
Electrical training is now more than ever a viable alternative to university in the wake of the current government significantly rising the overall cost of going to university. With tuition fees currently averaging around £9000 per year, the cost of learning a specific skill at university is increasingly unattractive. Massive competition from similar people on a course and a general decline in the number of jobs available for the number of people in the UK means it is more competitive than ever when trying to secure a career.
Many students go from university straight into unemployment for months, or even years. Many tend to flit from part-time job to part-time job, chasing that dream job that related to their chosen university field but rarely able to secure a position that relates directly to whatever was studied.
Instead of going through all of this, ramping up massive debts, why not train to be an electrician? Once you've been through the training and learned all the skills you need to succeed in the electrical field, you can either start up your own business carrying out electrical work or alternatively join an established company who will train you further, develop your skills and help you to find work.
It's still a massively competitive industry, but the ability to find your own work, promote your own services and get paid well even on a starting salary makes the electrical sector an extremely desirable one to join. It's also not limited to specifically doing work on houses – electrical work spreads from everything from correctly installing high voltage systems to laying down essential infrastructure underground, so there's a massive variation on what's possible for the committed electrician.
It's Not Too Late!
Who's to say the electrical industry is limited to just the younger generation? No matter what your age, it's possible to retrain entirely from scratch and become a certified electrical professional.
If you're stuck in a job you hate and want a change, why not consider taking the plunge and learning the ropes in a constantly evolving industry with great opportunities?
Here at PASS, we've seen countless people in this position go on through our training courses to great things. Paul Davies, a former student of our training courses, moved from his PE assistant career to becoming a solar installer on £54000 a year just a mere year and a half after leaving our doors with his full certifications (read more on Paul's story here).
Our Training Courses
Interested in learning more about becoming an electrician? Thankfully you're on electricialtrainingcourse.co.uk, a subsidiary of the PASS group. We've specialised in electrical training courses for the best part of a decade, giving all of our delegates the nationally-accredited knowledge they need to succeed in the future.
Our courses are available nationwide or in our purpose-built electrical training centre in Stockton, situated in the North East of England. We work with time-served trainers and electrical professionals to deliver our training courses to the highest standard, breaking down what is a complex industry into easy-to-understand chunks that help you to learn at your own pace.
For more information on our selection of entry-level training courses we highly recommend viewing our selection of purpose-built training courses for those brand new to the industry.
You can view more about these courses here.