The First 18th Edition Course at Stockton Gets 100%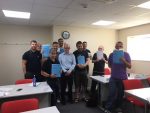 It may have been one of the hottest July's, but that was nothing compared to our first full 18th Edition course that took place at The PASS Electrical training centre in Stockton-on-Tees last week.
Hot off the press, the new 18th Edition was just launched on 2nd July this year.
PASS training's tutors worked tirelessly to get the first course off to a start, covering the whole of the new City & Guilds 2382:2018 syllabus.
On Monday 21st July the first delegates came to the Stockton location ready for their 3 days of guided tuition and examination, in order to gain the new qualification of City & Guilds 2382:2018 18th Edition of the Wiring Regulations.
Thankfully the air-conditioned classroom enabled everyone to keep their cool. So much so that course Tutor Tony was over the moon to reveal that all nine delegates had gained a PASS and were now among the first proud owners of a City & Guilds 18th Edition Certificate.
Well Done Lads!