17th Edition Course Leeds | City & Guilds 2382-15 Training Courses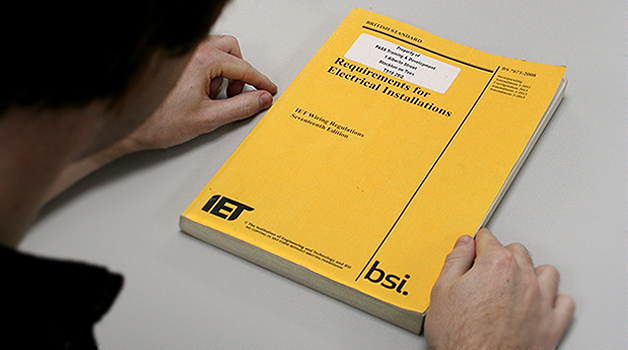 Course Details
The 17th edition Leeds training course is theory-based with no practical elements.
Course Duration: 3 days
Location: The Avenue Hotel, 83-89 Harehills Avenue, Leeds, LS8 4ET. More info available here >>
Qualification Gained: City and Guilds 2382-15
Examination: Yes, multiple choice, open book
---
Recently revised in line with Amendment 3 of the IET Wiring Regulations, our 17th edition Leeds training course will ensure you have fundamental working knowledge of the Wiring Regulations and the requirements placed upon you.
Taking place in a classroom environment over a period of three days, our experienced tutors will guide you through the Wiring Regs in an easy-to-understand manner.
This course includes the following content as part of the Amendment 3 update:
Part 2 Definitions
Chapter 52 – Selection and Erection of the Wiring Cables
Section 557  Auxiliary Circuits
Section 717 Mobile and Transportable Units
Section 559, 714 and 715: Luminaires and Lighting Installations
Section 715 Extra-low Voltage Lighting
Section 714 Outdoor Lighting Installations
Chapter 41 Protection against Electric Shock
'Cmin' Factor
Chapter 42 Protection against Thermal Effects
Condition Report
Suitability
All those wanting to work in, or currently working in, environments requiring 17th Edition qualifications will need to complete the 2382-15 17th Edition.
It is ideally suited to those already in the electrical industry who need to update to the new regulation standards or those who are fairly new to the industry and haven't yet studied for a 17th Edition qualification.
Progression and Development
As the 17th Edition is the basic qualification for most people wanting to work with electrics, once successfully completed, the 17th Edition qualification will allow progression to further more advanced level courses.
Pre-requisites
Any prior electrical knowledge will be an advantage, although not essential. All learners must be interested in the subject matter and willing to learn in order to gain entry to this course.
Expand a Location to Book Online
Leeds
| Date | Price | Duration | Availability | |
| --- | --- | --- | --- | --- |
| 4 Jun | £425.00 | 3 days | Space Available | |