17th Edition Course Dundee | City & Guilds 2382-15 Training Course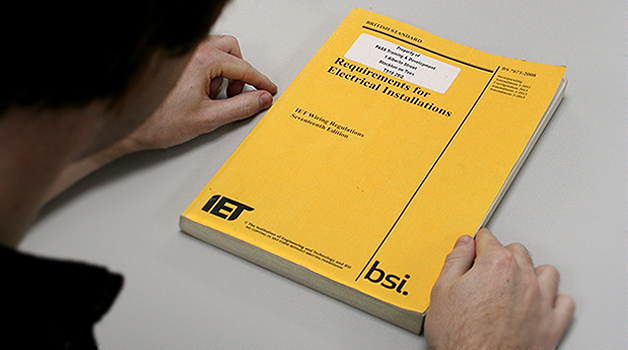 Course Details
Location: PASS – Dundee, Best Western, Queen's Hotel Dundee, 160 Nethergate, Dundee, Angus, DD1 4DU, Scotland
Certification Gained: City & Guilds 2382-15 Level 3 Award in Requirements for Electrical Installations BS7671: 2008 (2015)
Assessment: Candidates will be expected to complete a two hour examination after the third day of the course.
Recommended Reading:  Attendees should own a copy of the current Amendment 3 version of the IET Wiring Regulations book and bring it with them.
This training course follows the syllabus outlined by City and Guilds 2382-15 and teaches learners everything they need to know about understanding the IET Wiring Regulations.
Incorporating the latest changes made under Amendment 3 of the Wiring Regs, the course is theory-based, taken over three days and is finished with an online exam at the end of the third day.
The course covers sections including Protection for Safety, Selection and Erection of Equipment and Inspection and Testing. It also covers the following sections which were incorporated under Amendment 3:
Section 557 – Auxiliary Circuits
Section 559: Luminaires and Lighting Installations
Section 714: Outdoor Lighting Installations
Section 715: Extra-Low Voltage Lighting
Section 717: Mobile and Transportable Units
Chapter 41: Protection Against Electric Shock
Chapter 42: Protection Against Thermal Effects
Chapter 52: Selection and Erection of the Wiring Cables
What's included in the price?
£20 off a multifunction rester at PAT-Services.co.uk
Lunches and refreshments
City & Guilds exam fees
Course materials (excluding 17th Edition Regulations)
Suitability
All those wanting to work in, or currently working in, environments requiring 17th Edition qualifications will need to complete the City & Guilds 2382-15 17th Edition.
It is ideally suited to those already in the electrical industry who need to update to the new regulation standards or those who are fairly new to the industry and haven't yet studied for a 17th Edition qualification.
Progression and Development
As the 17th Edition is a basic qualification for most people wanting to work with electrics, it will allow progression to more advanced level electrical courses.
Pre-requisites
Any prior electrical knowledge will be an advantage, although not essential. All learners must be interested in the subject matter and willing to learn in order to gain entry to this course.
Course Reading Material
All candidates are required to read and bring to the course, a current copy of 17th Edition Wiring Regulations.
City and Guilds accredited 17th edition training course based in Dundee
Train with PASS at our 17th edition course Dundee and ensure you're fully in compliance with the latest version of the IET Wiring Regulations!
If you're carrying out or involved with electrical work in the UK, it is required that you show you have full understanding of the Wiring Regulations and how to implement them as part of your work. This course gives you a full, City and Guilds accredited certificate in this discipline and the course's content is in line with Amendment 3 of the Wiring Regulations, which became mandatory from 2015.
This course is ideal for those in the Dundee area, including Newport-on-Tay, Tayport, Wormit, St Andrews and Tealing.
It is a good idea to familiarise yourself with the IET Wiring Regulations book before attending this course. We recommend bringing this with you when you attend. Not got a copy? You can get one from us directly via our test equipment website, Tester.co.uk.
Note: if you already have taken a 17th edition course previously that did not include the Amendment 3 changes, you are required to attend another course to ensure you're up to date. We regularly also run workshops for those with previous experience – please call us directly for more information.