Squaring Up To City & Guilds 2394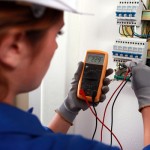 Steve Rae-Jones: "I have never been one for exams."
The pass rate for City & Guilds 2394-302 Level 3 Principles, Practices and Legislation for the Initial Verification of Electrical Installations examination, which currently hovers around 50%, has hit a high of 62% and a low of 34% between 2012 and 2013. This means that almost two-thirds at one time failed the exam, so in the case of Steve Rae-Jones, passing first time round was a cause for celebration.
"When I left school I completed an electrical apprenticeship with an 11-strong NICEIC-registered electrical contractor based in Shrewsbury in 1988," Steve recalls. "I then left in 1992 during the recession as work was drying up, and went into retail with a major supermarket chain. Then when Part P was introduced in 2005 putting individual emphasis on Competent Persons rather than contracting firms, I wanted to go back to my trade."
17th Edition updates
Steve enquired about NAPIT's Competent Persons scheme, and was allowed to join with conditions, particularly to familiarise himself with 17th Edition updates to regulations on inspection and testing. Steve enrolled on PASS Ltd's City & Guilds 2394 Electrical Training Courses and passed first time (excusing the pun) in March 2014. Now he is continuing onto the City & Guilds 2395, to be followed by the 17th Edition in April 2014.
Steve adds: "I have never been one for exams since going into an apprenticeship at the age of 16, but the trainers are very supportive. I am a member of NAPIT now and I want to fulfil the conditions, although I am already registered under the Competent Persons scheme, and I am able to certify installations and notify local authority building control (LABC).
"When I completed my five-year apprenticeship, I qualified as a Competent Person under the 16th Edition Wiring Regulations, but having left the trade in 1992 I needed a refresher to bring me up to speed on the 17th Edition."
Steve was satisfied that NAPIT's requirements were not a grilling – just a check on Competent Persons' understanding of current regulations. He now sports a NAPIT badge and van stickers with pride and wishes he had gone back into the trade years ago.
He continues: "I went into a retail environment when it was booming, providing a safe environment with job security while the building trade had dipped. I was a line manager but then decided more recently that I wanted to go out on my own and work for myself, with my name on a van. When you have a mortgage, this is a big undertaking.
"I like domestic work. Some contractors prefer commercial and industrial three-phase work and I have myself done school rewires, but there is plenty of domestic work going out there."
Discrete or multifunction testers
When it comes to the choice of 17th Edition testing instruments, this is usually between discrete testers for specific groups of 17th Edition tests or multifunction testers. Larger project teams may prefer to have one contractor performing insulation resistance while another performs earth continuity testing on another circuit, in which case discrete instruments may be favoured.
However, multifunction testers are becoming increasingly popular among electricians who want to do away with the hassle of constantly switching instruments. Multifunction testers may or may not offer downloading of test results. Steve opted for a Metrel multifunction tester.
He concludes: "When I decided to go back to my trade, I spent a lot of money on books like the Wiring Regulations, Onsite Guide, Guidance Note 3 and so on, as well as tools and testers. I am very impressed with the Metrel tester because I used on a job and I tweeted jokingly 'I love my tester more than my wife'."
For further information please visit PASS Ltd's specialist test equipment web site, Tester.co.uk.