No Time for Classroom 17th Edition Training? Go Online!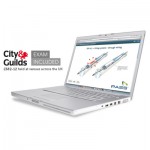 The coveted 17th Edition 2382-12 Certificate may seem to be out of reach for many busy electricians who cannot find the time to attend formal classroom-based training. Now with the help of an interactive Online 17th Edition Course, this can be taken entirely at one's own pace from the comfort of one's own home.
It can be difficult to take time off work for training when it means losing money, so an online version of the BS7671 17th Edition course could be a solution to the problem. This allows study of the latest standard of the IET wiring regulations, including essential subjects such as safety, selection and erection of electrical equipment.
Online training is easy to access from a standard internet connection and only requires an average home computer. It provides a convenient way to obtain course materials such as homework, exam schedules, test scores and more.
The intention of the course is to ensure that individuals are conversant with the format, content and application of the requirements for electrical installations. It covers all seven parts and 16 appendices of BS7671:2008 (2011).
Amendment 1
The course incorporates Amendment 1, which includes the sections described below, and over 98 percent of people who sit this course pass their City and Guilds exam first time.
New Section 444 – Measures against Electromagnetic disturbances: Any equipment such as lifts, transformers and fluorescent lighting can cause electromagnetic disturbances and this interference can damage IT equipment, components and circuits. This new section suggests recommendations to avoid and reduce electromagnetic disturbances.
New Section 534 – Devices for protection against overvoltage (surge protection): Transient voltages can have a peak value of 6kV. Lightning strike and electrical switching can give transient overvoltages to installations. This new section requires the installation of surge protection devices (SPDs) to limit transient overvoltages and divert surge current away from sensitive equipment.
New Section 710 – Medical locations: Strict measures are needed to ensure the safety of medical patients especially where they are likely to be subjected to the application of medical electrical equipment.
New Section 729 – Operating or maintenance gangways: Regulation 15 of the Electricity at Work Act requires working space, access and lighting to be correctly and adequately provided where work is being carried out. This new section includes requirements for gangway width, access, emergency access and emergency evacuation.
Appendix Six – Model forms for certification and reporting: Periodic inspection and testing is required because electrical installations can deteriorate over time. As legislation states that electrical installations should be maintained, periodic inspection and testing of installations is required.
Reasons for updated regulations
This is the responsibility of joint IET/BSI committee JPEL/64 (Low Voltage Electrical Installations), a technical committee formed by the representation of numerous organisations including; ESC, IET, C&G, SELECT, HSE, NAPIT, BSI, UNITE, NICEIC etc.
With the progressive advancement of technology, newer safety devices and equipment are constantly developed, requiring adjustment of the Wiring Regulations to accommodate changes of practice to better suit this equipment.
BS7671 sets the definitive standards for the electrical industry with regard to the safe design, installation and operation of electrical equipment and systems. This is achieved by setting the requirements and operating criteria for the UK, whilst corresponding to the European CENELEC Committee for Electrotechnical Standardisation harmonised standards.
European harmonisation is necessary because the UK is obliged to incorporate the technical intent of the harmonised documents developed by CENELEC. The International Electrotechnical Commissions (IEC) publishes international standards while CENELEC publishes voluntary standards to help facilitate trade between countries. This helps to create new markets, cut compliance costs and support the development of a single European market.
Mock Exam and assessment
At the end of the online course, a realistic 60-question multiple choice exam is taken to simulate the actual City and Guilds exam. Essential reading includes BS7671:2008 Wiring Regulation (Green Book) and the Onsite Guide needed for the final exam as well.
It offers the ability to flag and review questions. The questions are rotated, allowing one to take the exam multiple times to be confident of having the preparation needed to pass the 2382-12 when sitting the exam for real. This takes the form of a two-hour open book online exam which can be booked at locations across the UK.
For further information, please visit PASS Ltd's specialist Online 17th Edition Course web page.