Category 1 in Ultrasound | Kirkcaldy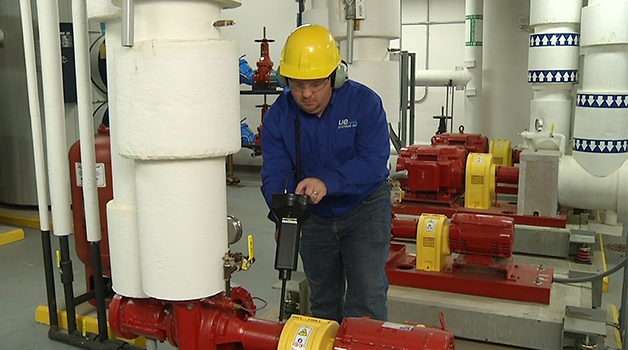 The Category 1 Certification course is presented by experienced, technical experts in the field of Airborne/Structure Borne Ultrasound. The course is run over 5 days where you will learn in-depth about Ultrasound equipment so you can fully realise and implement the benefits of an ultrasound program in your workplace/business.
Throughout the 5-day course you will cover the following topics:
(See the bottom of the page for a day-to-day break down) 
All aspects of Airborne/Structure Borne Ultrasound Technology
Effective mechanical analysis, leak detection, electrical inspections
How to perform: compressed air leak surveys, condition-based lubrication, steam trap inspections, bearing analysis, electrical inspections
How to improve asset availability and company profitability
Improved techniques and methods for quality ultrasound inspection
How to enhance recording and reporting skills through our data management software and special analysis software
How to reduce and save on energy consumption
Should you bring your own laptop with you, it is recommended that you download the free software, available for download here.
Is this course right for me?
This course is ideal for inspectors seeking to advance their knowledge in Airborne/Structure Borne Ultrasound Inspection, supervisors, energy auditors, service company personnel who perform PdM, energy audits or leak detection for their clients and service personnel.
Certification and on-going requirements
In order to achieve an official certification, classroom training meeting the requirements of SNT-TC-1A must be completed along with successfully passing the General, Specific and Practical Quizzes, and Exam with a score of 80% or better.
Documentation of education or experience must be maintained annually. Hearing acuity must meet the minimum requirement of one ear of less than 25 dBHL (with or without aid.) Hearing acuity examinations must be documented annually. Documented experience signed by a supervisor or superior for 3 months or 210 hours.
Category 1 Certification Course Break-down
Day 1: Introduction and Basics:
Certification requirements for Category 1
Review of Proactive and Predictive Maintenance Concepts
Typical Applications Overview
Theory Of Sound & Basic Physics of Ultrasound
Technology Integration
Equipment/Instrument/Software Overview
Generalized Methods of Recording and Reporting Inspection Results
Beginning of basic software integration
Day 2: Leak Detection:
Concepts of Leak Detection: Fluids Defined, Leak Rates, Acoustic Properties Leaks, Types of Leaks
Leak Detection Methods: Pressure, Vacuum, Ultrasonic Tone Test
Gross-to-Fine Method
Leak Confirmation Methods
Working in Noisy Environments, Shielding Techniques
Inspecting Heat Exchangers
Conducting a Compressed Air Leak Survey: determining CFM loss computing energy savings, carbon footprint reduction, recording and reporting survey results
Software Download, Reporting
Hands-on Field Work
Quiz
Day 3: Electrical Inspection:
Safety Considerations
Overview of Types of Electrical Equipment
Definition of Electrical Discharges and Sound Recognition
Diagnosing Electrical Discharges with Frequency Analysis and Time Wave Form
Acoustic Effects Versus Heat Generated Defects
Integration of Ultrasound and Infrared Methods
Detection Methods for Electrical Equipment
Confirmation and Reporting Methods
Hands-on In Field Work
Quiz
Valves and Steam Trap Contact Approach
Day 4: Mechanical Inspection:
Strategies of Mechanical Inspection
Repeatability and Reliability
Bearing Inspection and Failure Modes of Bearings
Bearing Trouble Shooting Methods and Sound Recognition
High Speed versus Slow Speed
Bearing Comparison Methods
Bearing Trending Method with Decibel and Level of Failures
Data Logging, Data Management
Sound Recording
Basic Fault Frequency Analysis with UE Spectralyzer
Reporting
Conditioned Based Lubrication with Ultrasound
Over Lubrication/Under Lubrication
Sound Recognition
Gears, Pumps, and Cavitation
Hands-on In Field
Quiz
Day 5: (1/2 Day)
Review of Airborne Ultrasound Technology
Final Examination (2 hrs. 100 Questions)
Expand a Location to Book Online
Kirkcaldy (UE)
| Date | Price | Duration | Availability | |
| --- | --- | --- | --- | --- |
| 9 Nov | £1295.00 | 5 days | Space Available | |