City & Guilds 2391-50 Level 3 Award in Initial Verification - Watford (London)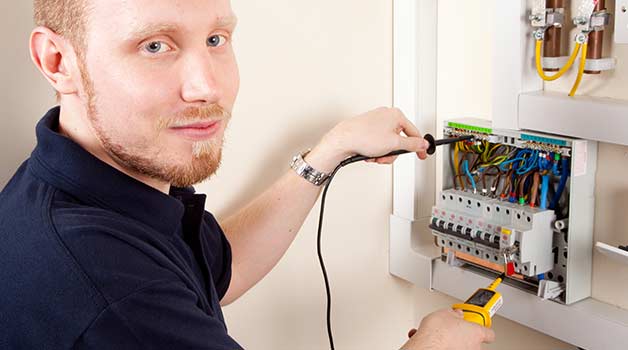 Learn to perform initial inspection of electrical installations with this fully accredited City and Guilds Level 3 training course.
This course is recommended for practisting electricians who are yet to perform initial inspection on electrical installations, or those with previous experience in this field looking for an update on their previous training. The City and Guilds 2391-50 Initial Verification course is also suitable for those entering the industry from other disciplines (for example other engineering fields, or those who have been working in allied trades).
Upon completion of this course you will be fully prepared for completing initial verification on electrical installation work.
Important Course Details
We will be running the City and Guilds 2391-50 Initial Verification course at our Watford, London and Stockton-On-Tees, Teesside electrical training venues.
Are There any Qualifications Needed to Attend the Course?
Although there are no qualifications required for this electrical verification course, it is expected that you should have basic knowledge and understanding of electrical science and principles/experience of electrical installation work either within the electrical contracting industry or an allied trade. Please call our training team for more information if you are concerned about your eligibility.
This course will include a multiple-choice examination (40 questions – 80 minutes), a short answer test (1 hour) and a practical test (2 hours).
What Can I Expect From the Course?
City and Guilds 2391-50 is both a theory-based and a practical course; you can both expect to be in the classroom carrying out important theory based on initial verification and you can also expect to gain practical experience on our in-house electrical training bays.
Taught by our experienced, friendly and helpful electrical training tutors, we will guide you through all of the modules and prepare you as much as possible for the examinations and practical assignments you will have to complete at the end of the course. We try at all times to keep our training groups with a small group of learners to ensure you get plenty of one-on-one time with our tutors, to ensure all of your questions are answered and to ensure you always get the best electrical learning experience.
What Qualification Will I Receive?
Those who successfully complete with course will receive a City & Guilds 2391-50 Level 3 Award in Initial Verification.
Section 1 – Understanding the Requirements for Initial Verification of Electrical Installations
This section incorporates the following:
Statutory and Non-Statutory Documents – including Design, Construction and Inspection & Testing
Certificating Documents – including an electrical installation certificate, schedule of inspections, schedule of test results, a minor electrical installation works certificate (in relation to new circuits and alterations/additions to existing circuits
Signatories – including Design, Construction and Inspection/Testing
At the conclusion of this section, you should be able to:
State situations that require initial verification
State the purpose of initial verification
Identify the statutory and non-statutory documents that affect the initial verification process
Identify information required by an inspector in order to carry out initial verification in accordance with BS 7671/GN 3
Describe the purpose of certificating documents and the requirements for recording and retention in accordance with BS 7671
Define the responsibilities of the relevant signatories in relation to certification
---
Section 2 – Understanding Safety Management Procedures when Undertaking Initial Verification
This section incorporates the following:
Health and Safety Requirements – working in accordance with risk assessments/permits to work/method statements, safe use of tools and equipment, safe and correct use of measuring instruments, provision and use of appropriate PPE and reporting of unsafe situations
Requirements – in terms of those carrying out the work and those using premises during the inspection
Implications – in relation to the inspector, other personnel, customer/clients, the general public and building systems (removal of supply)
At the conclusion of this section, you should be able to:
Identify health and safety requirements that apply when carrying out initial verification
Outline the relevant requirements of the Electricity at Work Regulations (EWR) for safe
inspection and testing of electrical installation
Describe the procedure for completing safe isolation in accordance with HSE guidance
Explain why safe isolation is carried out for the protection of the inspector and other
persons
Identify the implications of not carrying out safe isolation
---
Section 3 – Understanding the Requirements for the Initial Inspection of an Electrical Installation
This section incorporates the following:
Items to be Inspected – schedule of inspections in BS 7671 (domestic or similar up to 100A)
At the conclusion of this section, you should be able to:
State why inspection is carried out before testing
Identify the items to be inspected during initial verification in accordance with the schedule
of inspections for new installations
Explain how the items on the Schedule of Inspections would be verified
Describe the appropriate human sense required for a particular inspection
Describe how to deal with an item that is found unsatisfactory during the inspection process
Describe how the IP classification system is used for electrical equipment
---
Section 4 – Understanding the Requirements for Testing Electrical Installations at Initial Verification
This section incorporates the following:
Maintenence – including regular checks, calibration and checks before use
Testing – continuity of protective conductors, continuity of final ring circuits, insulation resistance (to include testing electrically-separated circuits), polarity, earth electrodes, earth fault loop impedance, RCD tests (fault protection and additional protection), prospective fault current, phase sequence, functional testing and voltage drop (using measured conductor resistance method)
Factors – including circuit length, temperature effects, parallel conductors, loading and preparation (nulling)
At the conclusion of this section, you should be able to:
State the reasons for instruments to be maintained and comply with standards such as BS7671 and GS38
Describe the characteristics of instruments and leads used for each test
Explain why there is a recommended test sequence for initial verification
Explain the purpose of each test
Describe how each test is carried out
Identify factors that affect the result of each test
Interpret the result of each test
Explain how test results are verified for compliance
---
Section 5 – Perform Inspection and Testing of Electrical Installations
In this section, you'll put everything you've learned into practice and complete the tests needed to perform inspection/testing on electrical installations.
You will also be expected to complete any relevant documentation as part of the process.
---
Reading Materials
We highly recommend candidates consider purchasing and studying the following books for the course and bring them along with you:
Both books are sold through our test equipment website, tester.co.uk, click the link above for more information on each.
You can use both these books during examinations on this course.
---
FAQs about City and Guilds 2391-50
Q – When Will the 2394/95 courses finish?
A – Last registration for City and Guilds's older courses will be at the end of August 2017 and you will have until August 2018 to complete these courses.
Q – Does this mean the 2394/95 courses will no longer be relevant?
A – No, the 2394 and 2395 courses will remain an acceptable Level 3 qualification. Those already with this qualification do not need to take the new 2391 course(s).
Q – I was unsuccessful with some of the elements of 2394/95, can I still retake this course?
A – Yes, you will have until August 2018 to complete this
Q – Have any of the exams changed for the new courses?
A – The biggest change is that all exams are now open-book. You are now permitted to refer to BS7671 Wiring Regulations and Guidance Note 3 books during the course and examinations