3rd Amendment Workshop Stockton (17th Edition Update)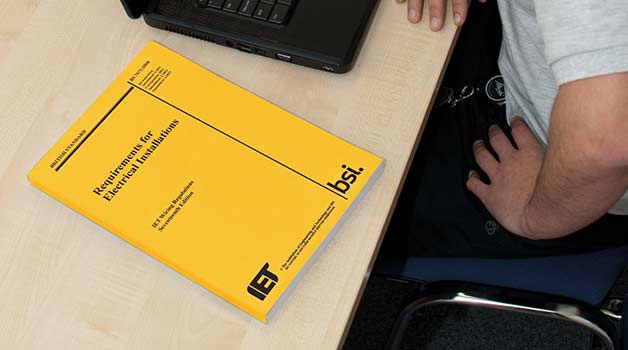 Course Details
The workshop will focus on the changes brought in though amendment 3 of the Wiring Regulations and aims to bring those already holding a 17th Edition qualification up to date with all the changes and how they affect them during working life.
The Stockton-on-Tees based workshop details will include things like the following topics:
Why regulations are updated
The numbering system change
Why none of us are competent anymore
Documented risk assessments where RCD's may not be necessary for additional protection
Why are all the z's values changing – the Cmin factor
Why plastic consumer units 'may' no longer be suitable in domestic installations
Protection against overheating
The EMC directive – compatibility
Wiring systems in escape routes
New section 557 – what are auxiliary circuits
Update to RCD's in bathrooms
New section 714 – outdoor lighting installations
New section 715 Extra low voltage lighting installations
Changes to the certification – risk assessment and new inspection schedules
Certification
Those completing the 3rd Amendment workshop will be awarded with a certificate of attendance from PASS.
Length
The 17th Edition 3rd Amendment workshop course is one day long in total.
Location
This workshop is held at the main training centre in Stockton on Tees. For other locations and venues, see the location pages in the menu.
PASS Ltd
1 Alberto Street
Stockton-On-Tees
TS18 2BQ
Suitability
Those who already hold a 17th Edition qualification and those contractors wanting to keep in touch with all the latest regulation changes are ideal candidates to complete this workshop course.
The third amendment workshop covers the changes brought about by this update and does not cover the entire 17th Edition.
Those not already holding a 17th Edition qualification will need to complete one to ensure they understand the regulations surrounding work that falls under 17th Edition.
Progression and Development
Those completing this workshop will be some of the first to become up to date with the new regulations. This ensures that when they come into force in July 2015, they will already be able to carry out work to these standards.
There are many other training courses which candidates can diversify into or add to their existing qualifications. For help deciding the next steps, contact us on 01642 987 978 and we'll discuss existing qualifications and what to do next.
Pre-requisites
Those wanting to complete this workshop course for the 3rd Amendment to the Wiring Regulations should have existing knowledge of the previous 17th Edition and amendment. The focus of this workshop is to cover the changes, so those without a prior 17th Edition qualification may struggle to understand the course content.
Course Reading Material
Candidates completing this workshop should purchase a copy of the new 17th Edition Wiring Regulations 3rd Amendment book, which is now yellow and will be available from January 2015.
Based in the North East? Take out 3rd Amendment workshop in Stockton to keep up-to-date with the IET Wiring Regulations
The third amendment to the BS7671 Wiring Regulations will be published in January 2015 with the details of the changes announced in November 2014.
The details of the new amendment will not come into force until July 2015, so there is a bit of time to get up to date and ensure a thorough understand how these changes affect working practices.
The 17th Edition 3rd amendment workshop is available to ensure that learners understand the changes and how they are to be implemented.