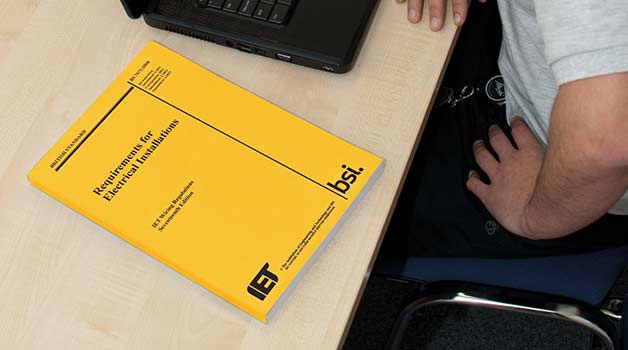 Nationwide course ideal for 17th Edition electricians and electrical contractors to get up-to-date with the new 3rd Amendment to the BS7671:2008.
As of July 2015, all people involved with installing, constructing and inspecting/testing electrical installations must comply with the rules and regulations outlined in the IET Wiring Regulations 17th Edition: Amendment 3.
Several changes were made to the IET Wiring Regulations under the 3rd Amendment (2015) – to help you to understand these changes and how they may affect your work on a daily basis, PASS is now running regular 3rd amendment workshops.
Course Suitability
This workshop is best suited to those with an existing 17th edition qualification who want to gain an understanding of how the changes made under Amendment 3 affect them.
There are no formal requirements for this workshop. Anyone can attend, but a working knowledge of the previous 17th edition regulations would be beneficial.
What Does the 3rd Amendment Workshop Cover?
Contents of the seminar will include:
Why the regulations are updated
Another change to the numbering system!
Why none of us are competent anymore
Documented risk assessments where RCDs may not be necessary for additional protection
Why are all the Zs values changing – the Cmin factor
Why plastic consumer units 'may' no longer be suitable in domestic installations
Protection against overheating
The EMC directive – Compatibility
Wiring systems in escape routes
New Section 557 – Auxiliary Circuits – what are they?
Update to RCDs in bathrooms
New Section 714 – Outdoor lighting installations
New Section 715 – Extra-Low Voltage Lighting Installations
Changes to the certification – Risk assessment and new inspection schedules
17th Edition Update Course Benefits
Candidates will gain a full understanding of the changes introduced to BS7671:2008.
Certification
On completion of the 3rd Amendment Workshop, candidates will receive a certificate of attendance from PASS.
What Should You Bring?
Scientific calculator (smart phones are not acceptable)
Pen and paper
Length
One day course.
Locations
We run this course on-site and nationwide in the following venues:
Birmingham
Carlisle
Chesterfield
Motherwell (Glasgow)
Gloucester
Leeds
Manchester
Merseyside
Newcastle
Nottingham
Stockton-on-Tees
South London (Surrey)
Watford (London)
Dates
Dates are available by selecting a location on the left menu. Alternatively, please contact us or call on 0845 365 39 45.
Cost
£99+VAT
How to Book
You can book online, contact us or call on 0845 365 39 45.