Course Overview
Learn to become an authorised person responsible for limited switching operations on high voltage equipment at our Stockton-on-Tees high voltage training centre, situated in the heart of the North East.
Book now by choosing your programme date, or call us on 01642 987 978/email training@pass.co.uk for more information
---
Programme Details
Programme Duration: 3 days
Programme Location: PASS Stockton HV Training Centre. Venue address is 1 Alberto Street, Stockton-On-Tees, TS18 2BQ. More about venue >>
Assessments: Written examination and practical examination
Certificate Gained: PASS Certificate of Competency in Limited Operation of High Voltage Power Systems (Certificate of Attendance gained for those who do not pass the tests)
What's Included: Programme entry and examination costs, lunch and refreshments (tea, coffee and juice)
Entry Requirements: Basic electrical experienced is recommended. Anyone attending training should also have a good level of both spoken and written English.
Course Details
Stockton Limited Operation of High Voltage Power Systems – What's In the Programme?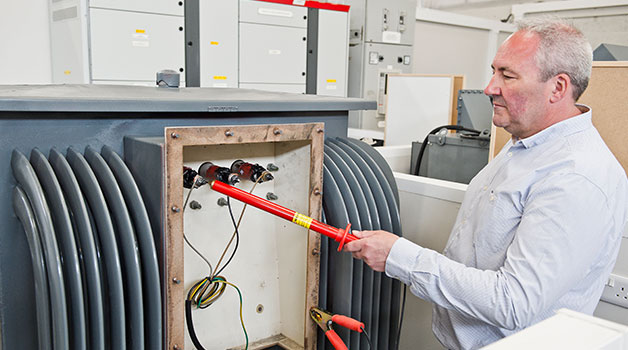 Our Stockton-based high voltage limited operation of high voltage power systems course is designed to give you the knowledge and experience needed to safely enter high voltage areas such as substations and switchrooms. You'll also gain the experience needed to carry out limited operation of different types of high voltage equipment as an authorised person.
Taught by our experienced high voltage training team, you'll learn both the theory behind the Limited Operation of High Voltage Power systems and also take part in a practical switching exercise with hands-on experience of using our purpose-built HV equipment.
After completing this programme you will be permitted to issue limited safety documents (for example isolation documents), but you will not be qualified to issue permits for work, sanctions for testing etc.
The following modules are included as part of the Stockton Limited Operation of High Voltage Power Systems programme:
Safety Requirements
Electrical Hazards and Precautions
Operational and Safety Features of Switchgear
Electricity at Work Regulations 1989
Limited Operational Procedures
High Voltage Safety Rules
The Role of Protection Relays
Practical Switching Exercise
Case Studies
Programme Review
Course Suitability
About the Programme Venue

Our Stockton training venue is within easy access of many different areas in the North East. If you're from Sunderland, Newcastle, Durham, Middlesbrough or anywhere in the North East, our high voltage training is easy to access by car, train or public transport.
For those who would like to take the programme from overseas, we are able to cater for this and can help you with finding accomodation and ensure you have everything you need during your stay.
The programme venue address is:
PASS Stockton HV Training Centre
1 Alberto Street
Stockton-On-Tees
TS18 2BQ
Essential Readings
Programme Entry Requirements
Although there are no formal entry requirements to attend the Stockton Limited Operation of High Voltage Power Systems programme, a basic understanding of electricity and high voltage equipment would be beneficial (but not essential).
Anyone attending this training programme should also have both a good level of spoken and written English.
Not sure if you're right for this programme, or want advice about which programme is right for you? Give the training team a call and they'll be happy to answer all of your queries.
Available Courses
3

Jan

Stockton-on-Tees
£699.00

17

Jan

Stockton-on-Tees
£699.00

14

Feb

Stockton-on-Tees
£699.00

28

Feb

Stockton-on-Tees
£699.00

13

Mar

Stockton-on-Tees
£699.00

25

Mar

Stockton-on-Tees
£699.00

3

Apr

Stockton-on-Tees
£699.00

29

Apr

Stockton-on-Tees
£699.00

28

May

Stockton-on-Tees
£699.00

12

Jun

Stockton-on-Tees
£699.00