City & Guilds Building Regulations for Electrical Installations Training Courses - 2393-10 Watford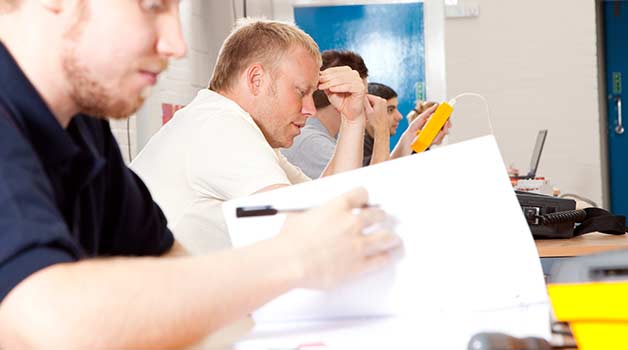 Course Details
This electrical course, in London, focuses on the Building Regulations in relation to electrical installations in dwellings.
Teaching the methods of compliance for the seven parts of the Building Regulations, the course will cover the following topics:
Scope, Purpose and Structure of the Building Regulations
Understand notifiable and non-notifiable types of building work
Identify relevant approved documents
Identify the role of Building Control Services
Each section has been designed to ensure that learners fully understand, and are able to comply with, each aspect of the Building Regulations in working contracts.
As this course is recognised, those who successfully pass this course will be able to apply to one of the five main competent person accreditation schemes.
Assessment
This electrical course in London is a City and Guilds course and finishes with a multiple-choice online examination consisting of 20 questions.
Certification
All successful candidates will be awarded a City and Guilds 2393-10 Building Regulations for Electrical Installations in Dwellings certificate and a certificate of attendance from PASS.
Learners who fail the exam will only receive a certificate of attendance from PASS.
Length
This City & Guilds 2393 course is one day long.
Location
1st Floor
41 Watford Metro Centre
Dwight Road
Watford
Suitability
This one-day Building Regulations training course is most suitable for established electricians already working in the industry.
Progression and Development
Candidates who pass the City and Guilds Building Regulations training successfully will be able to continue onto the following City and Guilds qualifications.
Level 2 Certificate in Fundamental Inspection, Testing and Initial Verification (2392)
Level 3 Certificate in Inspection, Testing and Certification of Electrical Installations (2391)
Pre-requisites
All learners completing this course should have a working knowledge of domestic electrical installations and ideally hold a City and Guilds 2360 Part one, a 2330 level two or an equivalent qualification.
Learners are also expected to have a working knowledge of the following:
Electrical Safety Legislation, Regulations, Standards and Terminology
Domestic Electrical Circuit Installation
Installing Domestic Lighting Circuits
Domestic Electrical Earthing and Bonding Requirements
Inspecting, Testing and Commissioning Single Phase Domestic Electrical  Circuits
Special Locations and Installations Including Kitchens
Domestic Electrical Installation Pre-Work Survey / Inspection
Basic Understanding of 3 Phase
If not, the Part P course may be a better choice.
Please call us on 01642 987 978 to discuss any other relevant qualification/experience.
Course Reading Material
Candidates are required to read and bring with them to the training course, a copy of the Electricians Guide to the Building Regulations (ISBN 978-0-8634-862-4)
It would also be advantageous to have a copy of;
Electrical Installers Guide to the Building Regulations (ISBN 978-0-954879105).
Expand a Location to Book Online
London-Watford
| Date | Price | Duration | Availability | |
| --- | --- | --- | --- | --- |
| 28 Sep | £195.00 | 1 days | Space Available | |