18th Edition Update Course | C&G2382-18 | Glasgow (Motherwell)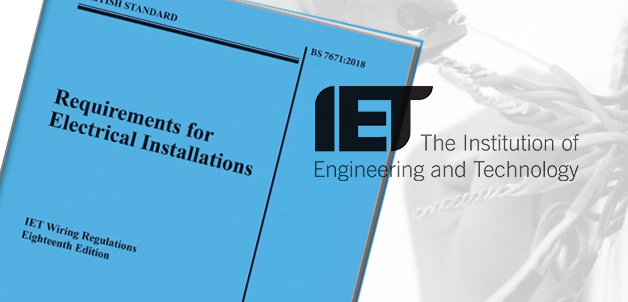 Course Details
Course Duration: 1 Day
Location: Premier Inn, Edinburgh Road, Newhouse, Motherwell, ML1 5SY
Certification Gained: City & Guilds 2382-18 Level 3 Award in Requirements for Electrical Installations BS7671: 2018 (2018)
Assessment: Candidates will be expected to complete a two-hour, 60 question examination at the end of the course.
Recommended Reading:  Attendees should own a copy of the 18th Edition Wiring Regulations  (Blue Book).
This Classroom based course does not include any practical work. It covers the updates and amendments that have been made to the wiring regulations and compares from the 17th Edition (3rd Amendment) to the new 18th Edition. Therefore the course can only be taken by those who have previously gained the 17th Edition 2382-15 qualification. Areas covered include:
Protection against electric shock, thermal effects, voltage disturbances and electromagnetic disturbances.
Devices for isolation and switching
Selection and erection of wiring systems
Protection, isolation, switching, control and monitoring
Devices for protection against overvoltage
Earthing arrangements and protective conductors
Onshore units of electrical shore connections for inland navigation
Energy efficiency
Course Suitability
The 18th Edition is suitable for anyone who works in the electrical industry or related building trades.
Progression & Development
The 18th Edition is the industry stand for anyone who works in the electrical trade. It is, therefore, a stepping stone qualification for you to be able to go on and study further. Other courses include the Inspection and Testing Courses, Part P and PAT Testing.
Pre-requisites
To enrol in this 18th Edition Update course you must have previously taken the 17th Edition 2382-15 City & Guilds Course with 3rd Amendment. As the course only focusses on the updates and amendments between the two editions. If you have not taken the 17th Edition or have any previous editions you should enrol on to the full 3-day course.
Reading Material
This course is focussed on the IET BS7671:2018 18th Edition Wiring Regulations. Therefore you should bring with you a copy of this text to use on the course and for future reference.
Glasgow Venue – 18th Edition Update Course
If you work in the electrical industry then from January 2019 the 18th Edition will be the official wiring regulations that you must adhere to. The City & Guilds 2382-18 18th Edition Wiring Regulations (Launched July 2018) is the industry standard qualification to prove that you are fully conversant with these regulations.  If you have recently obtained the 17th Edition (3rd Amendment) then this 1-day update course may be just what you need to get you up to the latest standard.
To be able to enrol on to this course you must provide evidence that you have a 17th Edition 2382-15 qualification.