City and Guilds 2382-15 17th Edition Amendment 3 Course Derbyshire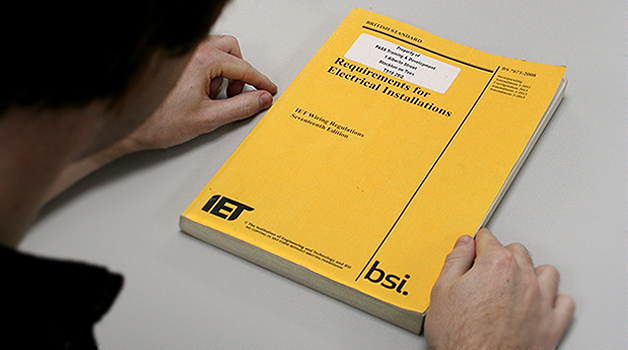 Course Details
Course Duration: 3 Days
Location: Premier Inn – Chesterfield North, Tapton Lock Hill, Off Rotherway, Chesterfield, S41 7NJ
Certification Gained: City & Guilds 2382-15 Level 3 Award in Requirements for Electrical Installations BS7671: 2008 (2015)
Assessment: Candidates will be expected to complete a two hour examination after the third day of the course.
Recommended Reading:  Attendees should own a copy of the current Amendment 3 version of the IET Wiring Regulations book and bring it with them.
This course is essential for anyone involved at any point with electrical work in the UK.
Officially replacing the older courses, the 2382-15 course incorporates the changes made to the IET Wiring Regulations under Amendment 3 (2015). Anyone carrying out work in the UK must be certified to do so under these standards.
This course is theory-based, with no practical elements.
After attending the course, learners will be able to:
Understand the scope, object and fundamental principles of BS7671
Understand the definitions used within BS7671
Understand how to assess the general characteristics of electrical installations
Understand requirements of Protection for safety for electrical installations
Understand the requirements for Selection and erection of equipment for electrical installations
Understand the requirements of inspection and testing of electrical installations
Understand the requirements of special installations or locations as defined in BS 7671
Understand the information contained within the appendices of BS7671
This course is based upon Amendment 3 of the IET Wiring Regulations and incorporates the changes made in that publication. Such changes include new definitions, new numbering systems, revisions to Chapters such as Selection/Erection of Wiring Systems and Special Installations/Locations, as well as changes to appendixes.
What's included in the price?
£20 off a multifunction tester at PAT-Services.co.uk
Lunches and refreshments
City & Guilds exam fees
Course materials (excluding 17th Edition Regulations)
Suitability
Although there are no formal entry requirements for this course, the 2382-15 17th edition course is primarily aimed at practicising electricians, suveyors, consulants and anyone else involved with any work that falls under the scope of the IET Wiring Regulations.
This course is suitable for beginners, although an interest and basic understanding of the principles of electricity will be beneficial.
We also recommend that those with a 17th edition qualification already attend this course to ensure they are working to Amendment 3 standards.
Progression and Development
Upon successful completion of this course, learners can move onto a wide variety of different electrical courses and further progress their skill sets.
Options include:
Course Reading Material
All candidates are required to read and bring to the course, a current copy of the IET's 17th Edition Wiring Regulations book.
Not got a book? Get yours directly from us via Tester.co.uk, our test equipment website.
Expand a Location to Book Online
Chesterfield
| Date | Price | Duration | Availability | |
| --- | --- | --- | --- | --- |
| 15 May | £425.00 | 3 days | Space Available | |