17th Edition Course Stockton | City and Guilds 2382-15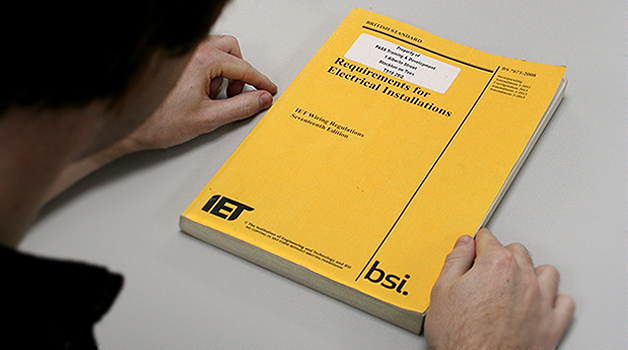 Course Details
Course Duration: 3 Days
Location: 1 Alberto Street, Stockton-On-Tees, TS18 2BQ
Certification Gained: City & Guilds 2382-15 Level 3 Award in Requirements for Electrical Installations BS7671: 2008 (2015)
Assessment: Candidates will be expected to complete a two-hour examination after the third day of the course.
Recommended Reading:  Attendees should own a copy of the current Amendment 3 version of the IET Wiring Regulations book and bring it with them.
Absolutely anyone working on wiring installations in domestic, commercial and industrial properties must adhere to the requirements of the IET Wiring Regulations (Amendment 3: 2015).
The City and Guilds 2382-15 course is designed to give learners the necessary knowledge to work confidently and safely in accordance with these regulations.
This course is theory-based – those attending will study the Wiring Regs and our tutors will explain in detail the requirements placed upon you.
As of July 2015, Amendment 3 of the Wiring Regulations came into circulation. This course was amended to reflect these changes and now includes information on:
Section 557 – Auxiliary Circuits
Section 559: Luminaires and Lighting Installations
Section 714: Outdoor Lighting Installations
Section 715: Extra-Low Voltage Lighting
Section 717: Mobile and Transportable Units
Chapter 41: Protection Against Electric Shock
Chapter 42: Protection Against Thermal Effects
Chapter 52: Selection and Erection of the Wiring Cables
It also covers Part 2 Definitions, 'Cmin' Factor and Condition Reports.
What's Included?
Suitability
This course is suitable for anyone, even if you don't have the previous electrical background. Working knowledge of basic electricity would be an advantage but isn't essential as our tutors will make sure everything is explained clearly.
We recommend that you take this course either as a stepping stone towards other courses or take this to make sure you're up-to-date with the requirements of Amendment 3 of the IET Wiring Regulations.
Progression and Development
The 17th Edition course is the basic standard qualification for almost all aspects of any electrical career and is necessary for anyone serious about a career in electrics.
Once completed, this Stockton 17th Edition course allows candidates who successfully pass to move on to further higher level courses such as becoming an Electrical Installer, Qualified Supervisor or becoming certified to carry out Inspection and Testing.
Course Reading Material
All candidates should buy, read and bring a copy of the IET Wiring Regulations (including Amendment 3).
If you don't have a copy of the book, you can buy one from us directly from our test equipment website. Just follow this link.
Expand a Location to Book Online
Stockton-On-Tees
| Date | Price | Duration | Availability | |
| --- | --- | --- | --- | --- |
| 24 Apr | £425.00 | 3 days | Limited Availibility | Click to Call |
| 8 May | £425.00 | 3 days | Space Available | |
| 21 May | £425.00 | 3 days | Space Available | |
| 5 Jun | £425.00 | 3 days | Limited Availibility | |
| 18 Jun | £425.00 | 3 days | Space Available | |