17th Edition Courses | City and Guilds 2382-15 Electrical Course London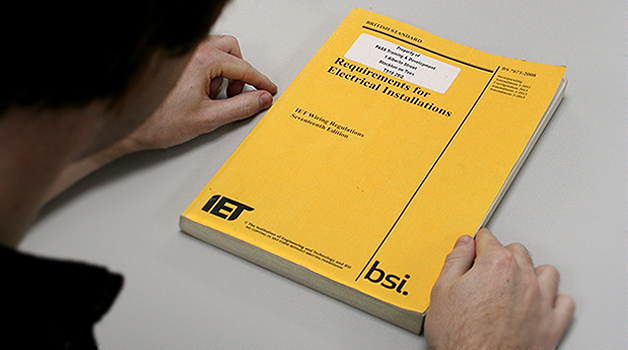 Course Details
This classroom based course covers all aspects of 17th Edition and includes amendment 3. Alongside the standard 17th Edition training of the previous course, this course now covers the new sections set out in amendment 3 including:
Part 2 Definitions – This section could be expanded and modified with some of the terminology changing to avoid confusion and promote further clarity.
Chapter 52 – Selection and Erection of the Wiring Cables: Cables concealed in a wall or partition -This section could be rewritten and all references to the phrase 'under the supervision of skilled and instructed persons' may be removed.
Section 557 Auxiliary Circuits – This section is a proposed new addition to the regulations and will cover things like auxiliary circuits for low voltage electrical installations. These types of circuits are for the transmission of signals intended for the detection, supervision or control of the functional status of a main circuit.
Section 717 Mobile and Transportable Units – This covers units which are self propelled, towed or transportable containers or cabins. Risk reduction requirements include automatic disconnection by RCD, accessible conductive parts to be connected through equipotential bonding to the main earth terminal within the unit, and the type of supply, voltage rating, number of phases, on board earthing and maximum power required.
Section 559, 714 and 715: Luminaires and Lighting Installations – Changes are proposed to bring this section together with the latest IEC and CENELEC standards.
Section 715 Extra-low Voltage Lighting – This refers to installations supplied from sources with maximum rated voltage of 50Vac rms or 120Vdc. Changes are expected to go along with the latest IEC and CENELEC standards.
Section 714 Outdoor Lighting Installations – Only minor changes are proposed in this section including things like requiring individual circuits to be isolated.
Chapter 41 Protection against Electric Shock – It is proposed that any reference to 'ordinary persons' is removed and protection for socket outlets up to 20A for all installations is required. However, those with RCD protection for specific labelled socket outlets or where a risk assessment has decided that RCD protection is not necessary are exempt.
'Cmin' Factor – It is proposed that the maximum earth fault loop impedance is revised to account for the Cmin factor. Notes on the tables will be changed to reflect maximum permitted operating temperature.
Chapter 42 Protection against Thermal Effects – Regulation 421.1200 requires switchgear assemblies including consumer units to have their enclosure manufactured from non combustible material to help protect against fire.
Condition Report – A few changes are proposed to the electrical installation condition report and notes. It proposes changes to the certification of new work – the schedule of inspections for new work to be replaced by examples of items that require inspection during initial verification.
What's included in the price?
£20 off a Multifunction Tester at PAT-Services.co.uk
Lunches and refreshments
City & Guilds exam fees
Course materials (excluding 17th Edition Regulations)
Assessment
The assessment for the 17th Edition changes to the 2382-15 course will take place at the end of the course on the third day and consists of a two hour examination.
Certification
On successful completion of the 17th Edition Watford course, candidates will be fully qualified up to the new 17th Edition standard incorporating amendment 3.
Length
The full length of the 17th Edition amendment one course is three days long in total.
Location
1st Floor
41 Watford Metro Centre
Dwight Road
Watford
WD18 9SS
Suitability
All candidates wanting to complete the Watford 17th Edition amendment three course should have an interest in the subject matter and a willingness to learn. It is ideal for those who work in environments that require 17th Edition qualifications, need an updated version or need to learn 17th Edition skills and qualifications in order to progress their career.
Progression and Development
Once completed successfully, this Watford course allows the learner to move on to further higher level courses and develop their career. It is the basic standard course for almost all avenues in the electrical industry and is a must for anyone who is serious about forging an electrical career.
Pre-requisites
To be eligible for entry to this Watford 17th Edition course, candidates must have an interest in the subject matter and have some electrical knowledge to a basic level. It is ideal for those who have previously passed electricians courses.
Course Reading Material
Candidates are required to read and bring with them, to the Watford 17th Edition course, a copy of the current 17th Edition Wiring Regulations.
Based in Watford, this course ensures you're up to date with the IET Wiring Regulations
The City and Guilds 2382-15 electrical course in London follows the IEE 17th Edition Wiring Regulations incorporating Amendment 3 and teaches candidates 17th Edition to this standard.
The 17th Edition Amendment 1 was published in January 2015 and comes in to force July 2015. Any previous qualifications that you hold have now been superseded by this qualification.
If you work in a field that requires 17th Edition qualifications you will need this course to ensure that you remain employable and up to the current regulation standards.