17th Edition Training Course in Sheffield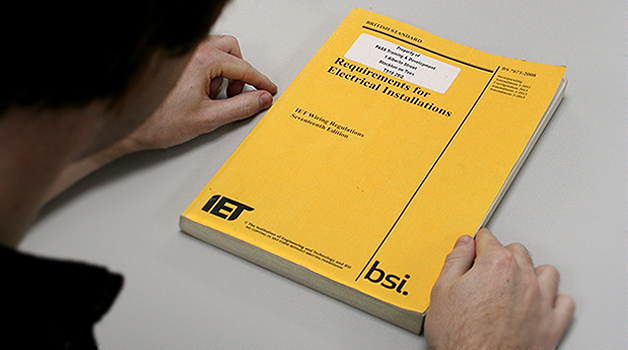 Course Details
This course incorporates the changes made under the IET Wiring Regulations Amendment 3. These regulations officially came into being in July 2015 and must be adhered by anyone involved with wiring installations.
Course Duration: 3 Days
Location: Arena Training Centre, Unit 1, Coleford Road Business Centre, Darnall, Sheffield, S9 5NF
Certification Gained: City & Guilds 2382-15 Level 3 Award in Requirements for Electrical Installations BS7671: 2008 (2015)
Assessment: Candidates will be expected to complete a two hour examination after the third day of the course.
Recommended Reading:  Attendees should own a copy of the current Amendment 3 version of the IET Wiring Regulations book and bring it with them.
The 17th Edition training course Sheffield is a classroom-based training program with no practical elements.
Taught by our experienced, professional tutors, our course closely follows the syllabus of City and Guilds 2382-15 and teaches students about the most important aspects of the IET Wiring Regulations.
The course covers sections including Protection for Safety, Selection and Erection of Equipment and Inspection and Testing. It also covers the following sections which were incorporated under Amendment 3:
Section 557 – Auxiliary Circuits
Section 559: Luminaires and Lighting Installations
Section 714: Outdoor Lighting Installations
Section 715: Extra-Low Voltage Lighting
Section 717: Mobile and Transportable Units
Chapter 41: Protection Against Electric Shock
Chapter 42: Protection Against Thermal Effects
Chapter 52: Selection and Erection of the Wiring Cables
Also includes Part 2 Definitions, 'Cmin' Factor and Condition Reports.
Your Course Also Includes
Suitability
There are no pre-requisites for sitting this course.
The 17th Edition Training Course Sheffield is an essential for anyone who will be working in environments that require a working knowledge of the IET Wiring Regulations. As this course incorporates Amendment 3, people already with a 17th edition qualification should also take this course to ensure they are up to date with the latest changes made to the regs.
Progression and Development
This course is an essential for progressing further in an electrical career. By attending this course, you have working knowledge of the 17th Edition Wiring Regs and can move on to other course routes such as training to become an electrical installer or a qualified electrical supervisor.
Reading Material
All learners should buy, read and bring a copy of the 17th Edition Wiring Regulations with them.
Expand a Location to Book Online
Sheffield
| Date | Price | Duration | Availability | |
| --- | --- | --- | --- | --- |
| 7 Mar | £399.00 | 3 days | Space Available | |