17th Edition Courses Bradford | City & Guilds 2382-15 Course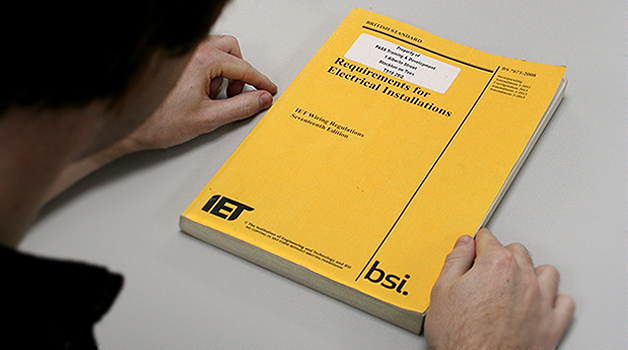 Course Details
Course Duration: 3 Days
Location: Premier Meetings Bradford South, Dyehouse, Cleckheaton, Bradford, BD19 6HG (More venue details and directions here)
Assessment: A 2-hour open book exam taken on the 3rd day of the course under exam conditions.
Certification Gained: On successful completion of the City & Guilds open book exam you will receive a City & Guilds 2382-15 Level 3 Award in Requirements for Electrical Installations BS7671: 2008 (2015).
Alongside the features taught in the previous 17th Edition, the new course covers all elements of amendment 3 including the following:
Part 2 Definitions
Chapter 52 – Selection and Erection of the Wiring Cables
Section 557  Auxiliary Circuits
Section 717 Mobile and Transportable Units
Section 559, 714 and 715: Luminaires and Lighting Installations
Section 715 Extra-low Voltage Lighting
Section 714 Outdoor Lighting Installations
Chapter 41 Protection against Electric Shock
'Cmin' Factor
Chapter 42 Protection against Thermal Effects
Condition Report
What's included in the price?
£20 off a multifunction tester at PAT-Services.co.uk
Lunches and refreshments
City & Guilds exam fees
Course materials (excluding 17th Edition Regulations)
Course Suitability
The 17th Edition is intended for anyone who works in the electrical industry or complementary tradespeople. It is the national standard for wiring and industry-wide recognised qualification.
Progression and Development
This is the basis for anyone working in the electrical trade. You are able to go on and complete other qualifications to further develop your role within the electrical industry.
Pre-requisites
There are no formal pre-requisites however, it is essential that all those wanting to study the 17th Edition course have a keen interest in the subject matter and any prior electrical knowledge or training would also be extremely useful.
Reading Material
You should have a current copy of the IET 17th Edition Wiring Regulations to use throughout the course. You can purchase a copy from us prior to the course. Please call and ask one of our advisors for more information.
17th Edition Bradford Course incorporating Amendment No. 3
If you work in the electrical industry then this course is a must! The City & Guilds 2382-15 17th Edition course is the industry standard qualification for the IET Wiring Regulations.
The 17th Edition course in Bradford is taught by experienced tutors and incorporates the latest changes under the  Amendment 3 of the IET Wiring Regulations (2015). The course is a theory based course and covers everything you will need to gain knowledge and confidently navigate the regulations.
As the course is focused on the IET Wiring Regulations it is highly recommended that you have a copy of this book for the course. You can get a copy from our sister website here.