Maidstone (Kent) Hotels
Hotels in Maidstone and the surrounding area
Ideally placed for those around the Kent area, including Maidstone, Sevenoaks, Tonbridge and Royal Tunbridge Wells, our Maidstone training venue is also suitable for those wanting to travel from other locations in the UK.
The city of Maidstone is just a few miles away from the training venue, which is in Wateringbury. If you are attending a course and need a place to stay while taking your course, you may be interested in the list of hotels available further down this page.
Our Maidstone training venue is at the following location:
---
Premier Inn, Wateringbury
103 Tonbridge Road, Wateringbury, Nr. Maidstone, Kent, ME18 5NS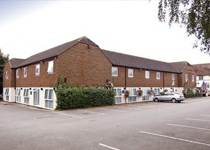 The very venue where our training takes place, you can simply come down from your room, attend the course and then go back upstairs and relax afterwards.
Literally right next to the train station (500 yards away), the Waterinbury Premier Inn offers a comfortable stay that has been rated on average 4+ stars by several hundred guests.
You get all the usual things you'd expect in a hotel room (including Premier Inn's promised comfy bed guarantee) and an on-site pub run by the Chef and Brewer pub co means you'll have somewhere to eat and relax on an evening.
---
Larkfield Priory Hotel and Restaurant
802 London Rd, Maidstone, Kent, ME20 6HJ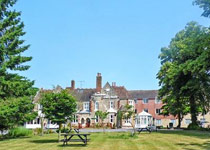 Around 3 miles away from our venue in nearby Aylesford, the Larkfield is a 52 room hotel with plenty to do.
With nicely presented rooms with various amenities including newspapers, coffee/tea makers, LCD TV, desk, phones, hair dry, toiletries and other facilities available, you'll certainly be comfortable at the Larkfield.
An on-site restaurant and bar/lounge give you all you need for food and drink and you'll be provided with breakfast each morning as part of your booking. Laundry facilities and a fitness centre are also available.
---
Holiday Inn Maidstone-Sevenoaks
London Rd, Wrotham Heath, Sevenoaks, Kent, TN15 7RS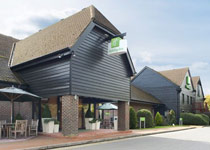 This property is around 4.9 miles away from our Maidstone electrical training venue.
With 105 rooms available on the property, rooms are clean, perfectly suited for a business professional and won't break the bank when staying for a few days.
The Holiday Inn Maidstone has an on-site full-service spa, indoor pool and a health club. A computer station is available on site and rooms come with TV with satellite channels, videogame consoles and pay movies.
---
Grange Moor Hotel
St Michael's Rd, Maidstone, ME16 8BS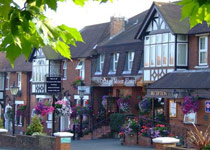 Around 3 miles away from the venue, the Grange Moor is a low price but extremely nice hotel situated in Maidstone.
The Grange includes a restaurant, coffee shop/café and bar/lounge. Wireless internet is available in public areas, and there's a library, garden and room service available as well as guest parking near the hotel.
This property has 50 rooms and includes full breakfast with every booking.
---
PASS Maidstone, Kent Training Centre
As well as electrical training in Maidstone PASS offers a number of nationwide training courses on a year-round basis. We've got plenty of dates available for everything from PAT testing to 17th edition training, so why not take a look at our course availability?
We also have our in-house training facilities available in London and in the North East of England. If you want any information about our additional courses please get in touch by calling 0845 365 39 45 or alternatively look around the site for more information on our courses.