Training Course Terms & Conditions
Have you ever thought about taking a risk? How about just stopping the job you're currently in and trying something completely new? All of us probably have at some point, but pulling the trigger and actually doing it is the tricky part.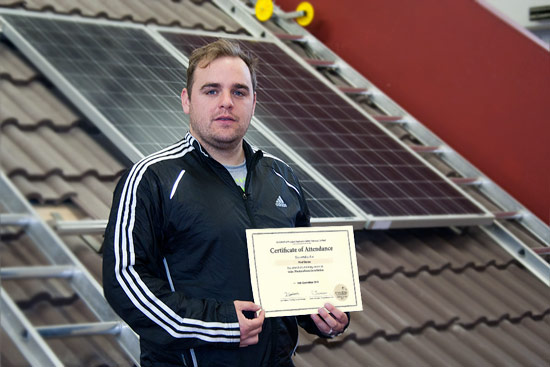 In the case of Paul Davies, he'd been working in education for around 15 years when he decided he finally wanted to do something new. Up until that point Paul had been working in the PE department of a school, and had also worked closely with children with behavioural problems.  But something wasn't quite right. Paul was never fully happy in his role, and felt like there was something else he should be doing instead.
This is exactly what prompted Paul to start pursuing a career in the electrical industry, and this in turn led him to PASS' training centre in the North Eastern town of Stockton.
While still working in his current position Paul began researching the best course possible for his needs around the UK. He was turned off by several outlets – some of whom were going to charge in excess of £6000 for a full course – when he finally stumbled across PASS' electrician training site, Electricaltrainingcourse.co.uk.
Soon afterwards, with a little nudge from a friend who'd recently completed a 17th edition course with us, Paul enrolled on our Advanced Electrical Installer course package which walks delegates through a wide variety of essential modules designed to give users the tools they need to become certified electrical installers in domestic settings.
Although a complete beginner at everything electrical, Paul soon found himself enrolled on the course, beginning in April 2012. Since he was still working at the time, Paul completed the various parts of the course between April and December of that year, learning about Electrical Basics, Introduction to Inspection and Testing, City and Guilds 17th Edition, City and Guilds Building Regulations, Part P for Domestic Installers, City and Guilds 10 Fundamentals in Inspection and Testing, Heating and Boiler Control and Solar Photovoltaic (PV) Installation.
Paul was a complete beginner in the electrical field – he'd never done anything of the sort when he initially enrolled with us. When I asked him about our facilities he was quick to tell me that they were more than suitable for absolutely everything he needed to do during the course, and he also had a lot of praise for Tony, our resident electrical guru and trainer extraordinaire (he knows everything, according to Paul).
His tenure throughout the year at PASS was entirely Paul's decision – although he had left his original job in education to do the course, he was still completing work on the side in order to pay the bills as he completed his training. Using our selection of course dates Paul was able to decide exactly when he wanted to complete each portion of the course according to his schedule.
Since completing the course and passing each of the modules, Paul has gone on to find a large amount of work in his new field. He initially found work completing bathroom installation work but has since landed himself a highly profitable, £50,000+ a year job in the solar PV industry.
It just goes to show that although a change in career can be a massive gamble, it can pay off. Paul said he was extremely happy with his new position and salary (an improvement of over double of what he earned before) and he didn't hesitate to recommend his training, saying "It was a brilliant course, and is highly recommended. I've also passed the course on to others, and since then they've also gone on to find work as a result of completing their training at PASS".
We're absolutely delighted that Paul enjoyed his time with us, and we wish him every success for the future.
Please contact us directly for more information about any of our courses.