Can I Learn to PAT Test at Home or Work?
Yes, you can get fully qualified via our PAT Testing DVD & Online Exam, available to purchase from our dedicated PAT Testing Course website: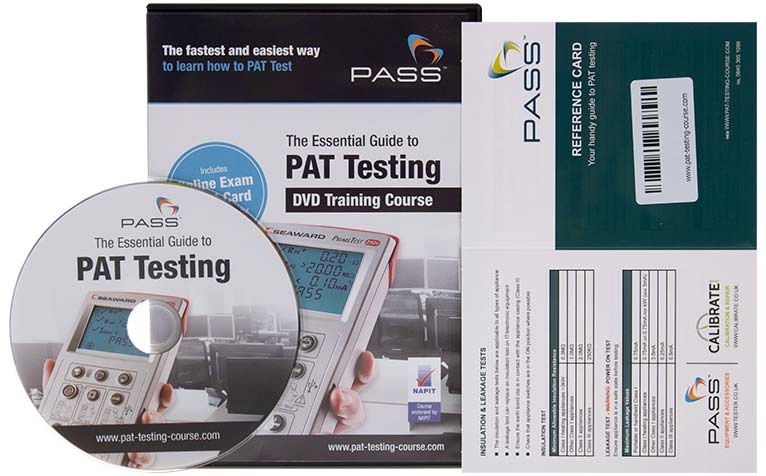 The portable appliance test training DVD course has been endorsed by NAPIT, (The National Association of Professional Inspectors and Testers), as a suitable PAT testing training course and examination.
This DVD PAT course will save you money as it allows the training of multiple employees. By using the same DVD, it is possible to cut your training costs. The DVD comes with one examination but further examinations can be purchased. This effectively aids your training and allows you to save money.
Once the examination has been completed and passed the candidate is then able to gain their Certificate of Technical Competence in Portable Appliance Testing. The candidate is then able to perform PAT testing either for a company or as a self-employed business.
This form of training is ideal as it cuts out the need to travel and allows the candidate to learn in their own time eliminating the need for travel.
The DVD course is split into easy to use, small bite-size sections that allow the candidate to return and re-do in order to gain further understanding and clarification. After all the sections have been completed the candidate is free to revisit the site and take the online examination.
The examination itself is made up of 24 multiple-choice questions designed to ensure that the subject has been fully understood. Once the exam has been passed the certificate can be printed. If the candidate should fail, the examination may be taken again at no further charge.
Topics covered by the PAT Testing Training DVD Course:
Introduction
The Test Card
Classes of Appliance
Visual Inspections
Earth Bond Test
Insulation Test
Leakage / Touch Current Test
Cables and Extension Leads
Testing in Different Types of Premises
Industrial Equipment
Commercial Kitchens
Hair Salon
Garage
Offices
Order your DVD Now
Frequently Asked Question & Answers
Q: I understand that once completed and passed you receive a certificate of competence is there anything else I would be required to do or register with to allow me to work for a company pat testing?
A: You may wish to register with an approved body such as NAPIT other than that you only require the correct liability insurance.
Q: What is the certificate and qualification that you get with this item after passing, thanks
A: Either the PASS or the Seaward training DVD will give you the qualification to carry out PAT testing for yourself or others as all you require is a certificate of Technical Competence which you are issued upon completion of either online exam, the PASS version is endorsed by the NAPIT (National Association of Professional Inspectors & Testers) and you can add additional exams to it at a later date if you want to train another person using the same DVD. If you have any more questions please feel free to contact one of our advisors, Christopher Craig, using the email address ChrisC@pass.co.uk or on 01642 061940.
Q: Hi Once passed the test how long does this last / do you have to retake after a set time Is the cert that you print off all I need to carry out testing or do I need to register with a recognised body thanks
A: Once you have passed the online exam we suggest that you just keep up to date with changes within the industry or Code of Practice as there is no expiration date on the certificate itself, once you have passed you can go onto PAT test for either yourself or for someone else without the need to register with anyone (unless you want to that is) as long as you make sure you have relevant insurance in place to do so.
Q: Is there any additional cost for additional attempts to pass the test?
A: There is NO additional charge for resitting the online test.
Q: Could you tell me please how many goes do you get at the exam if you fail first time ….thanks
A:  If you fail the first time you can resit the exam until you pass.
Q: Hi Could you tell me please how many time can you take the exam if you fail first time And how many question are they …thanks
A:  The DVD exam consists of 20-25 multiple choice questions and you can have multiple attempts at passing the online exam.