City and Guilds 2394-01 Electrical Course Watford (London)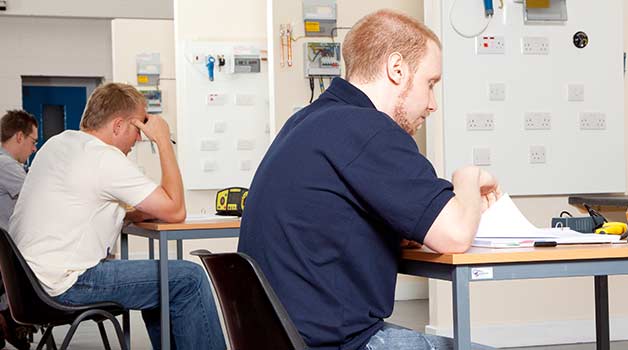 Course Details
Assessment
The assessment for the City & Guilds 2394-01 course is through a multiple choice test, a written test and an assignment.
Please Note: The examination for the City & Guilds 2394-01 Verification & Testing course will usually take place 1 week after the course on a Wednesday evening at 18:30 and finish at 20:00. To confirm your exam date and details please call 0845 365 3945.
Certification
All those who successfully pass the 2394-01 course will receive a qualification certificate and a certificate of attendance from PASS.
Course Length
The Initial Verification and Certification of Electrical Installations course is five days long in total and is held at our dedicated electrical training centre in Watford, North London.
Location
PASS Ltd
1st Floor
41 Watford Metro Centre
Dwight Road
Watford
WD18 9SS
Suitability
The 2394-01 course is suitable for those looking to refresh or update their electrical skills before carrying out their own initial verification of electrical installations. Ideally, candidates will have basic qualifications or experience in this area.
Progression and Development
Successful candidates can progress either into employment or onto the following City & Guilds courses:
Level 3 Award in Periodic Inspection, Testing and Certification of Electrical Installations (2395)
Level 4 Award in the Design and Verification of Electrical Installations (2396)
ILM Management and leadership qualifications.
Pre-requisites
There are no formal entry requirements for the 2394-01 electrical training course; however a basic knowledge and understanding of electrical science and principles would an advantage, as would previous experience within the electrical contracting industry.
Course Reading Material
BS 7671 2008 Wiring Regulations (ISBN 0-86341-844-0)
On-site Guide (17th Edition Update) (ISBN 0-86341-854-9)
Guidance Note 3 (GN 3) (17th Edition 5th Edition) (ISBN 0-86341-857-0)
Guidance Note 8 (Earthing and Bonding) (1st Edition) (ISBN 0-86341-616-3)
Expand a Location to Book Online
London-Watford
| Date | Price | Duration | Availability | |
| --- | --- | --- | --- | --- |
| 15 May | £555.00 | 4 days | Space Available | |
| 17 Jul | £555.00 | 4 days | Space Available | |
| 11 Sep | £555.00 | 4 days | Space Available | |