Authorised Person Limited Operation of HV Systems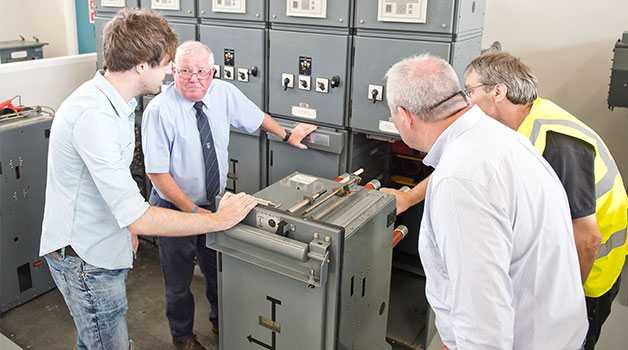 Become an authorised person capable of performing limited switching operations in HV substations and switchrooms with this course.
Authorised Person Limited Operation of HV Systems
Train to be an authorised person responsible for limited switching operations in high voltage environments with our HV authorised person training course.
Book now by choosing your course date, or call us on 01642 987 978/email training@pass.co.uk for more information
---
Course Details
| | |
| --- | --- |
| Course Duration | 3 days |
| Course Location | PASS Stockton HV Training Centre. Venue address is 1 Alberto Street, Stockton-On-Tees, TS18 2BQ. More about venue >> |
| Assessments | Written examination and practical examination |
| Certificate Gained | PASS Certificate of Competency in Limited Operation of High Voltage Power Systems (Certificate of Attendance gained for those who do not pass the tests) |
| What's Included? | Course entry and examination costs, lunch and refreshments (tea, coffee and juice) |
| Entry Requirements |  Basic electrical experienced is recommended. Anyone attending training should also have a good level of both spoken and written English. |
What is the Authorised Person Limited Operation of High Voltage Power Systems Course?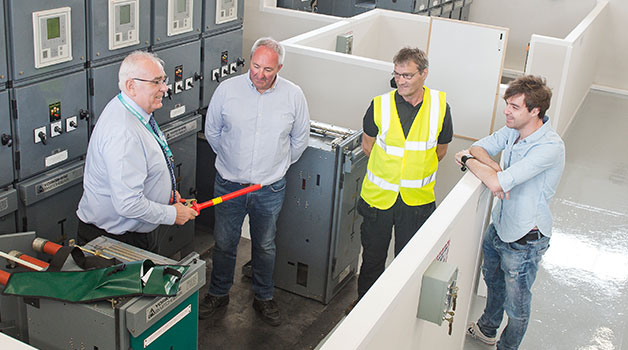 High voltage poses a significant danger to anyone working in a HV environment – our Authorised Person HV training course is designed to give you the training and practical experience necessary to work safely in these environments, as well as give you the experience needed to perform limited switching operations in electrical substations and switchrooms.
As an Authorised Person, you will be responsible for carrying out specific duties as defined by the Senior Authorised Person in your working environment. These duties will likely include limited switching duties on high voltage switchgear; our training course will help you to gain the experience and understanding to do so correctly and safely. The Authorised Person course also gives you permission to issue limited safety documents (for example isolation documents), however you will not be qualified to issue permits for work, sanctions for testing etc (which will be carried out by a senior authorised person).
During the course you will receive real hands-on experience of working with high voltage power systems in our HV training centre. The centre is designed to provide a real simulation of HV conditions, but runs at a intrinsically safe 110V AC to ensure you remain safe at all times during the course.
What's in the Course?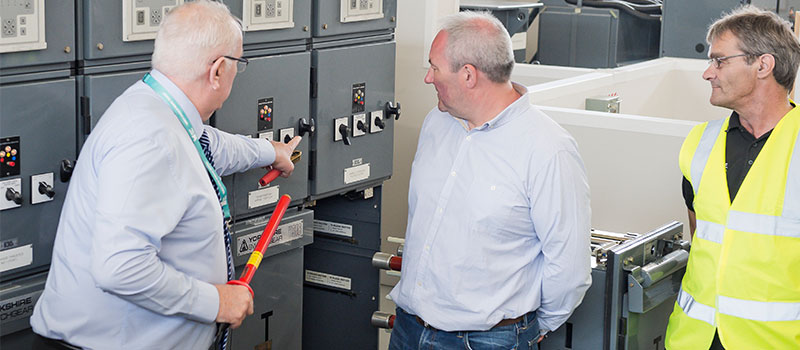 Our Limited Operation of High Voltage Power Systems course will introduce you to the concept of electrical power systems, giving you the knowledge and training you need to enter substations/switchrooms to carry out restricted switching operations and to monitor the performance/condition of the system in a safe and competent manner.
Our high voltage training tutors will also give you an introduction to limited safety document issuing responsibilities.
The following elements are covered as part of this course:
Safety Requirements
Electrical Hazards and Precautions
Operational and Safety Features of Switchgear
Electricity at Work Regulations 1989
Limited Operational Procedures
High Voltage Safety Rules
The Role of Protection Relays
Practical Switching Exercise
Case Studies
Course Review
Course Entry Requirements
There are no formal entry requirements for this course. A basic understanding of electricity and high voltage equipment is beneficial, but not essential.
Anyone attending training should also have a good level of both spoken and written English.
Not sure if you're right for this course? Just call the training team and they'll be able to answer any of your concerns and point you in the right direction.
About the PASS High Voltage Training Centre
To train to safely work with high voltage equipment, you need a realistic simulation of the actual conditions you'll face when working. The PASS high voltage training centre has been designed to give you this experience, with authentic switchgear, transformers and other HV equipment for you to work with during your course.
Our courses are led by our experienced HV training professionals, each of whom has worked for several decades in the HV industry. When you're not out performing practical tasks in the HV centre, you'll be in our classrooms learning the important theory behind your course, or relaxing in our canteen for your provided lunch.
The PASS HV training centre is in Stockton-On-Tees, which is situated in North East England. It's within easy access from all major motorways such as the A1 and A19 and is excellent for anyone travelling from Sunderland, Durham, Newcastle and the surrounding area. If you are travelling from further away or overseas, we can help you with finding a place to stay during the course and ensure you have everything you'll need during your stay.
Why not take a look around our fantastic new facility with a guided 360° tour. Take the tour
Venue Address:
PASS Stockton HV Training Centre
1 Alberto Street
Stockton-On-Tees
TS18 2BQ
HV Training Centre Gallery
Expand a Location to Book Online