What Is the IOSH Safety Passport?
After taking the IOSH Working Safely training course, you have a choice of how you'd like to receive your qualification.
You can either opt for a certificate, or you can instead choose to receive your qualification as a card known as the IOSH Safety Passport.
Many people tend to opt for the Safety Passport option after taking this course. If you select this option, you'll receive a custom card specifically made for you with your photo ID, details and qualification clearly visible.
Here's an example of how the card appears: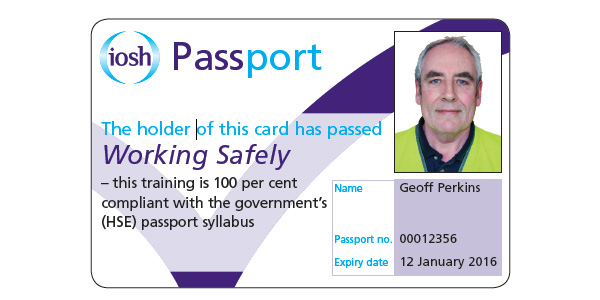 Having this card has a significant number of benefits, including:
Showing the standard of training you have
Use as identification in any environment, or as a site card
Simple way to demonstrate your comittment to health and safety
Many contractors and multi-site workers prefer cards compared to certificates
Shows your training is up to date (card expires after three years)
Contains security features including your photo, hologram and signature (much more secure than a standard certificate)
Please note that there will be a further £15 charge on top of the cost of the course if you want a Safety Passport card rather than the certificate.
Booking IOSH Working Safely Training
Interested in gaining the IOSH Safety Passport?
You can do so by booking onto one of our IOSH Working Safely courses, available in several venues across the UK.