City & Guilds 2365 Level 3 Diploma in Sheffield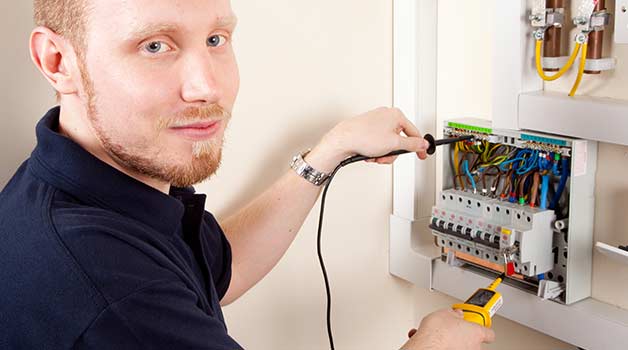 Course Details
Course Duration: 7 Weeks
Location: Arena Training Centre, Unit 1, Coleford Road Business Centre, Darnall, Sheffield, S9 5NF
Certification Gained: City and Guilds 2365-03 Level 3 Diploma in Electrical Installation (Buildings and Structures)
Assessments: Online test/practical assignments
This course is made for those who would like to work as an electrician within the building services engineering sector.
Although it does not qualify you to be a full electrician, this qualification will allow you to become employed as an electrical apprentice or to work towards any of the following qualifications:
Level 3 NVQ in Electrotechnical Services
Level 3 Diploma in Electrotechnical Technology
Level 3 Award in the Initial Verification and Certification of Electrical Installations
Level 3 Award in the Periodic Inspection, Testing and Certification of Electrical Installations
Level 4 Award in Design and Verification of Electrical Installations
This course develops the understanding gained during the 2365-2 course further. Including a mix of practical and theory-based work, trainees will learn everything from diagnosing faults with electrical installations to designing installations from scratch.
The course focusses on the following modules:
Health and Safety in Building Services Engineering
Understanding the Fundamental Principles and Requirements of Environmental Technology Systems
Principles of Electrical Science
Electrical Installations: Fault Diagnosis and Rectification
Electrical Installations: Inspection, Testing and Commissioning
Electrical Systems Design
Career Awareness in Building Services Engineering
Suitability
This course is only available if you have attended and gained a City and Guilds 2365-2 qualification beforehand.
City and Guilds 2365-3 is made for those looking for a career as an electrician. It builds upon the basic modules in the level 2 qualification and is designed to give you a mix of practical and theoretical knowledge for use in working with electrical installations.
Based in Sheffield, this electrician training course is perfect for those from Rotherham, Chesterfield, Barnsley and Buxton.
Progression and Development
Gaining a level 3 qualification will allow you to work as an electrical apprentice, or progress onto a Level 4 training course.
With this accrediation, you can attend one of the following courses:
Level 3 NVQ in Electrotechnical Services
Level 3 Diploma in Electrotechnical Technology
Level 3 Award in the Initial Verification and Certification of Electrical Installations
Level 3 Award in the Periodic Inspection, Testing and Certification of Electrical Installations
Level 4 Award in Design and Verification of Electrical Installations
Expand a Location to Book Online
Sheffield
| Date | Price | Duration | Availability | |
| --- | --- | --- | --- | --- |
| 25 Oct | £2975.00 | 35 days | Space Available | |
| 21 Feb | £2975.00 | 35 days | Space Available | |
| 13 Jun | £2975.00 | 35 days | Space Available | |