City & Guilds 17th Edition 2382-15 IET Electrical Training Course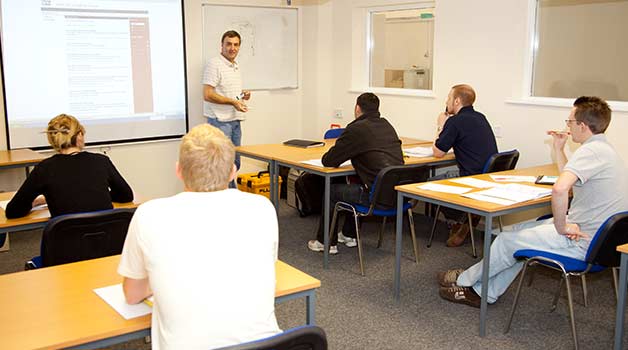 Available nationwide, the industry-standard 2382-15 will get you up to speed with the latest amendments to the IET Wiring Regulations and ensure you're fully compliant with Amendment 3.
City & Guilds 17th Edition 2382-15 IET Electrical Training Course
Please note: you will require a copy of the new 3rd Amendment Wiring Regulations book for this 17th edition course. For those already with the green book, PASS will provide you with a copy of the yellow book during the course.
You can buy a copy of the book from our test equipment website, Tester.co.uk.
About The Course
This is a three day course.
City and Guilds 2382-15 focuses on the IET's 17th Edition Wiring Regulations (including Amendment 3) to ensure that you have working knowledge in compliance with the standards set out under these regulations.
This 17th edition training course is classroom-based and finished with a multiple-choice exam. There are no practical elements to the course.
17th Edition Course Suitability
The course is primarly aimed at practising electricians already with relevant experience and is ideal for ensuring you are aware of the changes made under Amendment 3. It is also suitable for those new to the industry, ensuring that you are fully aware and can prove your compliance with existing regs.
Note: if you already have a prior 17th edition course without Amendment 3, you are required to complete this course.
There are no formal entry requirements for this course. Unless you already have an existing 2382-15 qualification, you are eligible to take part in this course.
A working knowledge of electricity and previous Wiring Regulations would be beneficial, but isn't essential.
Course Content
Candidates will study the latest standards of the IET Wiring Regulations, using the current book as a basis.
There are seven key modules that will be focussed on during the course:
Section 1 – Scope, Object and Fundamentals
Section 2 – Definitions
Section 3 – Assessment of general characteristics
Section 4 – Protection for Safety
Section 5 – Selection and Erection of equipment
Section 6 – Inspection & Testing
Section 7 – Special Installations or locations
In addition, this course also outlines the changes made under Amendment 3 of the Wiring Regulations (2015), which includes:
Section 557 – Auxiliary Circuits
Section 559 – Luminaires and Lighting Installationgs
Section 714 – Outdoor Lighting Installations
Section 715 – Extra-Low Voltage Lighting
Section 717 – Mobile and Transportable Units
Chapter 41 – Protection Against Electric Shock
Chapter 42 – Protection Against Thermal Effects
Chapter 52 – Selection and Erection of Wiring Cables
The Amendment 3 section will also reference Part 2 Defintions – 'Cmin' Factor and Condition Reports
Read a review of the course from one our students here.
Exam
Upon successful completion of the modules listed above, candidates will be required to sit a multiple-choice, open-book examination to gain the full City and Guilds 2382-15 qualification.
As the exam is open book, candidates are allowed to use the IET Wiring Regulations book as needed to answer questions.
What's included in the price?
£20 off a Multifunction Tester at PAT-Services.co.uk
Lunches and refreshments
City & Guilds exam fees
Course materials (excluding IET Wiring regulations)
Where Can I Sit The Course?
This course is ran regularly throughout the year at various venues across the UK.
We currently hold this course in venues at the following locations:
Birmingham
Bristol
Chesterfield
Dundee
Gloucester
Leeds
Maidstone (Kent)
Manchester
Merseyside
Motherwell (Glasgow)
Newcastle
Nottingham
South London (Surrey)
Stockton-On-Tees
Watford (London)
Do I Still Need to Take the 2382-12 Course?
No, this course is now obsolete and is no longer running. Anyone wanting to gain a 17th Edition qualification will need to study the 2382-15 course either online or at one of our venues.
Why Choose PASS for your 17th Edition Training?
PASS is a fully accredited City and Guilds training centre offering a wide variety of courses for both new and existing electricians.
With over a decade of experience in electrical training, the best tutors and a focus on our student's development, we've helped thousands of professionals across the UK gain the qualifications to succeed in their chosen career.
With the PASS 17th edition course, you get all of the following:
Professional tuition from fully accredited, experienced tutors
Full breakdown of the IET Wiring Regulations, including Amendment 3
City and Guilds accredited qualification
Convenience – we run regular courses at different venues across the UK
Want to learn more about the 17th edition course? You can read information on frequently asked questions at the following link.
Expand a Location to Book Online
Stockton-On-Tees
London-Watford
Manchester
Birmingham
Motherwell, Glasgow
South London - Surrey
Leicester
Dundee
Chesterfield
Merseyside
Gloucester
Sheffield